John Kasich to Woman at Iowa Town Hall Event: "Have You Ever Been on a Diet?"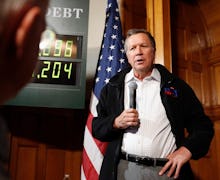 Ohio Gov. John Kasich, who has become somewhat of a Republican poster boy for condescending remarks directed at women at his events, has done it again.
At a town hall event in Dubuque, Iowa, on Tuesday, Kasich fielded a question from a woman in the 50-person audience about corruption in government and the influence of lobbyists in Washington, D.C.
Kasich, who is currently in 10th place in Iowa, explained he didn't see corruption as a major issue. He used his experience balancing the budget in Ohio to detail his views of interest groups and their influence. Kasich then reiterated his point, this time using language that ladies' brains can understand: dieting.
"Have you ever been on a diet?" Kasich said to a woman. The woman replied, "Many times," to which he laughed and responded "Well, you're the perfect example."
"So you set a goal and you reach it, and then what happens? A little spumoni, a trip to Mario's," Kasich said, apparently referring to an Italian dessert and a local restaurant, both of which can get in the way of this woman sticking to her diet.
Watch Kasich's comments here, originally recorded by MSNBC:
Not the first time: In isolation, Kasich's comment may seem like a ham-handed yet harmless analogy. But when viewed in the context of other comments he has made throughout his campaign, the moment fits squarely within a pattern of dismissiveness toward female voters. (The Kasich campaign did not immediately reply to a request for comment from Mic.)
In early October, a young woman named Kayla Solsbak eagerly raised her hand to ask Kasich a question during an event at the University of Richmond in Virginia.
"I'm sorry, I don't have any Taylor Swift concert tickets," Kasich replied. 
Solsbak wrote about the incident in an op-ed for her school newspaper, the Collegian. "The older members of the audience chuckled as my friends' jaws dropped to the floor," she wrote. "It was astonishingly clear that Gov. Kasich did not come to Richmond for my vote."
She wrote that she felt singled out because of her gender. "What continues to strike me is the hypocrisy of his condescension," she wrote in the op-ed. "He touted his ambitious energy as an 18-year-old man, but as soon as I, an 18-year-old woman, exhibited ambition, I became the target of his joke."
At the same event, the Collegian reported that Kasich remarked to another young woman in the crowd, "I'm sure you get invited to all the parties," a suggestion about her looks.
Of course, many politicians talk down to female voters. (One example came in the form of political ads targeting young women by comparing voting to picking a boyfriend or a wedding dress.) But Kasich needs all the support he can muster if he wants to stay in the race, with his campaign struggling to gain traction in Iowa and New Hampshire.
Speaking to women about parties, Taylor Swift and dieting is not the way to do it.
Update: Nov. 5, 2015, 9:51 a.m.: Rob Nichols, a spokesman for Kasich, sent Mic the following statement on Wednesday night:
"America's $18 trillion national debt is a serious issue that threatens our nation's future prosperity, and for the young people who read Mic, their share of that debt is $57,000 per person. The governor frequently poses that question to audiences — not to individuals as was inaccurately suggested — to bring home the need for us to stand up and call on the federal government to rein-in its spending. Unless we do that now the opportunities for younger Americans will be negatively impacted. That's not the future he wants for his own teenagers or for any of America's young people."