Election Day 2015 Results: Winners for Kentucky Race, Houston's HERO and Ohio's Issue 3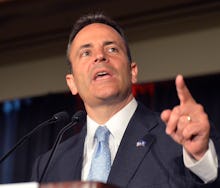 On Tuesday, voters cast ballots on a number of controversial state and local level policies. The results, which saw major victories for the Republican Party, spoke volumes about the political climate.
Among the results: Ohio rejected a proposition to legalize marijuana; Kentucky elected a Republican governor over the state's Democratic attorney general; Mississippi re-elected Republican Gov. Phil Bryant by a landslide; Houston voters overwhelmingly rejected a major LGBT rights bill; and the GOP maintained its Senate majority in Virginia. 
Here's a look at a few of the key outcomes of Election Day 2015:
Ohio didn't legalize pot: The legalization of medicinal and recreational use of marijuana in the state has been hotly debated since Issue 3 earned a place on the ballot, thanks to a petition organized August. 
The petitioners, pro-legalization group ResponsibleOhio, explicitly listed in Issue 3 the 10 sites that would have exclusive rights to produce and sell marijuana to retailers. Many opponents of the bill, which would have allowed people 21 years and older to purchase, use and possess marijuana for medicinal and recreational purposes,  said this rule would result in a monopoly. 
"The people of Ohio have understandably rejected a deeply flawed, monopolistic approach to marijuana reform that failed to garner broad support from advocates or industry leaders," the National Cannabis Industry Association told CNN. "This debate has shown that there is a strong base of support for legalizing, taxing and regulating marijuana."
Republican Matt Bevin is Kentucky's governor elect: Military veteran Bevin's victory came as a surprise, as the race between Bevin and Kentucky Attorney General Jack Conway remained close until the end, and given that 40 of the last 44 Kentucky governors have been Democrats. 
Bevin's policies are more in line with the tea party as opposed to the Republican Party (his lieutenant governor is Tea Party activist Jenean Hampton). Bevin is pro-life, pro-family and an avid supporter of the Second Amendment. His campaign promised to "protect" Kentucky voters from President Barack Obama's "war on Kentucky." 
Bevin has also been an outspoken supporter of Kim Davis, the Kentucky county clerk who was arrested in September after refusing to issue a marriage license to a same-sex couple, citing religious reasons. In a statement following Davis' arrest, Bevin said "two consenting adults" shouldn't need a government marriage license to enter a "contractual relationship," and that eliminating this step would allow Kentuckians to comply with the law while exercising their religious freedom.
Houston failed to pass LGBT rights ordinance: An overwhelming majority of Houston, Texas voters rejected Proposition 1, the Houston Equal Rights Ordinance, which would have protected the LGBT community in Houston from discrimination in employment and housing. 
"We are disappointed with today's outcome, but our work to secure nondiscrimination protections for all hard-working Houstonians will continue," the ordinance's supporters said in a statement, according to the Houston Chronicle. "No one should have to live with the specter of discrimination hanging over them. Everyone should have the freedom to work hard, earn a decent living and provide for themselves and their families."
The measure would have prohibited discrimination based on gender, sexual orientation and marital status "in city employment, city services, city contracting practices, housing, public accommodations and private employment."