Black Lives Matter Just Got Its Own Very Powerful Fashion Shoot With All Black Models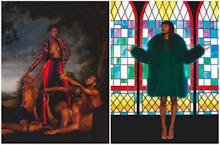 In the latest issue of Paper magazine, you can read about the last 100 years of New York nightlife, the death of print photography, rapper Eminem's legacy and the final resting place of Marilyn Monroe. But one fashion spread stands out. 
With the help of artist Kehinde Wiley, known for his dignified portraits of African-Americans, the magazine shines a powerful light on the Black Lives Matter movement. 
Everyone from the photographer to the models to the stylist to the designers of the clothes seen in the shoot, titled "Black Light," is black. The models wore pieces from the likes of Balmain, Yeezy Season 1, Hood by Air, Harbison, Pyer Moss and Karl Kani, all brands manned by black designers or creative directors. 
"Black lives matter because it's a prescient thing to highlight in this moment of cultural evolution," Wiley writes in Paper. "But black lives have mattered for thousands of years. My interest is in the now — what does it feel like to be black in 2015?"
In the past, fashion and social justice have made a fine pair, but with the help of Wiley's artistic eye, Paper magazine has gotten it absolutely right. 
Even the images' compositions and backgrounds are meaningful, with models standing in front of stained glass windows — in poses with religious undertones to match — or painted rural backdrops (juxtapositions that have become signature to Wiley's art). The fact that the photos incorporate the work of black designers is also crucial, as designers of color often go underrepresented or unacknowledged in an industry that's hard to break into.
The outfit choices were no mistake. The shoot's stylist was Shiona Turini, an alum of major fashion glossies W and CR Fashion Book. Last week, she posted an image from the spread on Instagram and immediately received enthusiastic comments from followers, like "Black excellence! Reasons why I love and respect you, Shiona. You're so unapologetically black and paving the way for blacks in the industry." 
This isn't the first time Turini has made efforts to grab the fashion industry's attention when it comes to social justice. In September, during New York Fashion Week, Turini was spotted wearing a "Black Lives Matter" hoodie, as well as a dress emblazoned with the names of black victims of police brutality.
The dress was designed by Pyer Moss, whose own Fashion Week show incorporated symbols of police brutality, with models walking the runway in garments spray-painted red with slogans like "I can't breathe."
As an inherently forward-looking art form, fashion has the power to drive the conversation on important topics of our time — and racial injustice and inequality have not escaped the industry's more outspoken, thoughtful designers.
"We have a black president, and that is a sign of progress in many ways, but we still read in newspapers every week about young black men because their bodies are in our streets," Wiley writes in Paper. "There's significance in that and, as an artist, I have to negotiate a response that is at once critical but also curious about how this could change."
The striking images hit just the right notes when it comes to taking the time out of a fashion magazine to divert a reader's attention to something with importance and resonance far beyond the fashion world. We're just glad Wiley could help. 
h/t Refinery29