How Edward Snowden Changed the Spy Genre, From 'Spectre' to 'Homeland'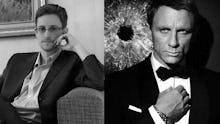 Spectre has a lot to live up to. The 24th film in the James Bond franchise follows the phenomenal success of 2012's Skyfall, the most successful Bond film of all time, and early reviews suggest it doesn't quite have the charge needed to make it a classic Bond film. Yet Spectre demonstrates something possibly more important to the health of the franchise than individual success: a readiness to embrace new ideas.
Critics have already picked up on the references to the Edward Snowden case in Spectre. The Guardian's Peter Bradshaw notes that the film takes "a stoutly pro-Snowden line against creepy voyeur surveillance," while Oliver Franklin-Wallis writes in Wired that in a "post-Snowden world," Spectre ends up having something of an identity crisis.
While Bond is following a trail left to him by the late M (Judi Dench), who died at the climax of Skyfall, the MI6 building is besieged by office politics as new colleague C (Andrew Scott) plans to abolish the 00-programme. He wants to pave the way for a multinational scheme that would employ computer-monitoring, activity tracking and global surveillance.
Considering the 007 franchise was built on the super-spy premise — radical, glamorous, sexy, exotic — Bond's investment in looking at the intersection between technology and politics is a new step. It also feels very 2015.
Former CIA employee Snowden's actions in 2013, leaking thousands of classified NSA documents to journalists detailing global surveillance programs, may sound like a case of real-life imitating fiction. In this instance, however, the exact opposite happened. The Snowden case's themes of global tracking, snooping, data breaches and a new form of cyberterrorism have never felt like more of a threat in the real world.
It isn't just in Bond's world, either. Take Homeland: The show's fifth and current season looks barely like the prisoner-of-war story in season one. Two hackers in Berlin sabotage an Islamic State recruitment site and a CIA network, and leak classified documents that reveal huge bombshells about the U.S. government, including their involvement in eschewing German privacy laws to conduct their own surveillance in Europe. Sound familiar?
"I feel like this story is a very fresh story," Showtime president David Nevins said at the Television Critics Association panel in August. "Its themes, I think, will resonate with people. Charlie Hebdo. Snowden. [...] as long as they keep it fresh, it's a show that's never the same season after season, and those kinds of shows are the shows that can run."
That's the thing about the Snowden case: It's fresh. The case has challenged the espionage genre by swapping literal bombshells out for metaphorical ones.
There's something intrinsically relatable to viewers in the possibility of data leaking; personal, yes, but on a global scale too. The ramifications for national security, therefore, become more far more grounded. If this is the Fappening of national security, data is just another dick pic you shouldn't be sending in the first place.
It's interesting that both Spectre and Homeland have chosen to charge their narratives with the here and now, because both have come under fire for their portrayal of terrorism — once the subject de jour for spy shows and films wanting to feel contemporary.
In a 2002 piece titled "Pop Culture Takes on Terrorism," the New York Times criticized TV's "uncanny ability to dissolve just about anything and incorporate it, transformed and repackaged, into the body politic," citing The West Wing as proof that instant reactions to current events (in this case, 9/11) were problematic.
Homeland's attempts to veer away from the titular home-land and tackle terrorism on a bigger scale blew up (figuratively) after the show was condemned for its lazy depictions of Pakistan. Nadeem Hotiana, speaking for the Pakistan Embassy, said the show had "maligned" the country and had done "a disservice" in its portrayal.
"In Homeland, [Pakistan is] portrayed as a grimy hellhole and war zone where shootouts and bombs go off with dead bodies scattered around. Nothing is further from the truth," one Pakistani official told the New York Post.
Meanwhile, Bond has always relied on outdated stereotypes to relay the "us versus them" mentality that sees a country do anything to protect itself from harm. 007 is always facing off against a combination of henched-up foreign goons or campy European villains. In fact, a scene from Skyfall between Bond and villain Raoul Silva was mocked for its accidentally homoerotic undertones.
Though he used to face off against absurd, billionaire supergeniuses who lived on exotic islands, later films have seen Bond take down more realistic terrorist figures — with mixed results. As the Observer's Tim Adams noted, "The problem with making Bond more real is that everything around him then seems even more fake than usual."
The data-driven plots, and the inter-country scrutiny that accompanies such a leak, then, has had an interesting impact on the way pop culture is tackling terrorism. It's an intelligent, cerebral kind of threat that speaks to the volumes to people whose interests, communications, emotions and intelligence exist almost exclusively on a phone kept in their pocket.
As could be seen in the later years of Fox's 24, there's only so many times you can blow something up before the threat of isn't edge-of-your-seat stuff any more. But as Homeland and Spectre show, the how and why of plunging the world into disarray is far more complex than actually trying to depict it.
In Spectre's case, it's not as if this somehow soothes the film's problems. If anything, the new-age ideas brought into MI6 only serve to reveal how outdated the very concept of Bond actually is. In fact, as part of a recruitment drive for "emotionally intelligent" spies, a source at MI6 told BuzzFeed that Bond would be unlikely to get in in 2015. He lacks a key "passion for social interaction," the source explained.
That said, the Snowden-tinged storytelling supercharges both Bond and Spectre. It helps modernize a storytelling frame that was beginning to get lukewarm. This is the way forward for the spy thriller genre — a way to be both modern and effective simultaneously. That's something even 007 himself would raise a drink to.