This App Uses Selfies to Help Women of All Skin Colors Get the Perfect Makeup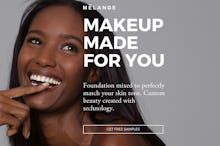 The perfect foundation often eludes us. Once we finally apply it on our face, what seemed like the perfect shade in the bottle often comes out a shade too light, too dark or too (fill in the blank). Even in-store testers can fall short, especially if we haven't yet learned to apply it to our necks instead of our palms.
That's perhaps why 1 in 3 women mix more than one foundation to find a suitable shade, Ariel Zborowski, co-founder and CEO of the beauty and tech company Melange, told Allure. To make this process simpler, Melange launched an app that helps you find the perfect foundation using something you're probably already doing.
"We wanted to give women the perfect shade by using something they do everyday: take selfies," Zborowski told Allure. 
The result is a slick (albeit overly simple) interface that prompts you to take a selfie, then choose your desired makeup coverage. Users can also use a "color card" from the company in the mail that you hold alongside your face in your selfies, to even better nail the right shade. 
"The card allows the user to take the selfie in any environment and ensures that we can calibrate the light to get their perfect color," Zborowski told Allure. "Since different light sources can affect or distort color, the card helps us balance out those effects." 
Once Melange crunches that data, they send five free samples. Users can then order a $40 bottle of their desired custom foundation shade. 
The idea for the company came about after Zborowski was working at Sephora and noticed how many foundations fell short because they didn't properly match a person's skin tone or undertone, she told Hypehair.com. It's a long-standing problem, as beauty companies have historically catered most of their products, including face makeup like foundation, toward fair skin tones. 
It wasn't until 1973, when Fashion Fair cosmetics appeared, that a makeup line offered shades suitable for women of color, according to NPR, followed eventually by brands like Cover FX and Iman Cosmetics. Now we're finally seeing change on a bigger scale, as companies like Estee Lauder, L'Oreal and MAC expand their offerings (as well as spokesmodels, like Lupita Nyong'o) to include far more shades.
But it's small companies who are really targeting the gap in the market. Essence BeautyBox, a new subscription-based service much like Birchbox that caters to black women, launched in September. Sephora has also been testing a makeup line called Black Up made exclusively for darker skin tones.
An app might not be the most surefire way to find the perfect makeup match. But it does bring a new level of functionality to our selfies. And hey, it might result in future selfies where we show off our flawless, color-perfect makeup. 
h/t Bust