Salt Lake City Elects Its First Openly Gay Mayor — Here's Why You Shouldn't Be Surprised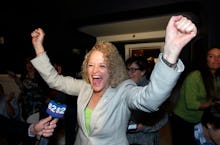 One of the United States' gayest cities has its first openly gay mayor.
On Tuesday, Salt Lake City voters elected openly lesbian former Utah state Rep. Jackie Biskupski as mayor, making her only the second woman to ever hold the post, the Salt Lake Tribune reports. Though her competitor, incumbent Ralph Becker, trailed by five percentage points in the close race — which will not be finalized until all mail-in ballots are accounted for on Nov. 17 — Becker has not yet conceded the election.
Salt Lake City has the seventh-highest LGBT population of the top 50 metro areas in the United States, with 4.7% of the population self-identifying as LGBT, according to TakePart.
"Generations of LGBT people could've only dreamed of this," Utah state Sen. Jim Dabakis told voters, reports the Salt Lake Tribune. "Jackie is now an iconic gay leader. This is a great moment for Salt Lake City — we're not the stereotype people across the country think we are."
Outsiders are often surprised to hear that Salt Lake City, the biggest urban area in a state dominated by conservative Mormons, has a prominent LGBT community. (TakePart refers to the city as a "gay mecca," partially owing to its population of gay citizens who have left the Mormon church, but remain in the city.) A 2015 report found Salt Lake City went from 39th place among the percentage of residents who self-identified as LGBT in 1990 to its seventh-place ranking in 2012-2014, the biggest jump in any major U.S. city.
Biskupski's campaign platform included improved services for the city's homeless, as well as increased growth on the city's west side, according to the New York Times. According to the Salt Lake Tribune, the mayor-elect's campaign maintained steam by "painting her as the people's candidate who would listen to constituents."