Alanis Morissette, Meghan Trainor Wore Chicken Suits On Fallon And Confused The Internet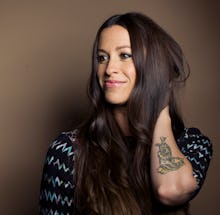 Tuesday night's episode of The Tonight Show Starring Jimmy Fallon got weird. The late night talk show host and American singer-songwriter Meghan Trainor joined '90's rockstar Alanis Morissette onstage to perform one of Morissette's best-loved singles, "Ironic," dressed from head to toe as chickens. 
The makeshift band called themselves the "Jagged Little Chicks," as a tribute to the Morissette album Jagged Little Pill, the Canadian musician's third studio album that was released in 1995. Long-time Morissette fans would remember that the record boasted some of the singer's signature tracks, including "Head Over Feet," "You Learn," "Hand In My Pocket" and, of course, "Ironic."
Morissette's appearance on Fallon helped to highlight that album's 20th anniversary, though the chicken costume performance managed to ruffle a few feathers on Twitter.
Others reacting to the footage on Twitter, however, were overjoyed.
Here's the full clip of the four-piece band performing their rework of "Ironic."