Jennifer Lawrence Says Katniss Everdeen Inspired Her to Stand Up for Equal Pay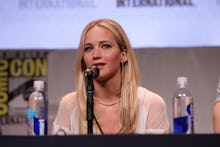 As a woman in Hollywood, the odds are hardly ever in your favor. Parts are limited, pay is unequal and speaking up about it is discouraged. Luckily, Jennifer Lawrence was ready to brave the backlash when she wrote her op-ed in Lena Dunham's Lenny newsletter calling out the problem.
"Based on the statistics, I don't think I'm the only woman with this issue," she wrote at the time. "Could there still be a lingering habit of trying to express our opinions in a certain way that doesn't 'offend' or 'scare' men?"
Though Lawrence is one of Hollywood's highest-paid performers, even she runs the risk of industry blowback upon speaking up. Yet the actress took some powerful inspiration from a part of herself she's set to leave behind later this year: Katniss Everdeen.
As Lawrence told Reuters, her Hunger Games character became an inspiration to her after playing her for nearly a half-decade. "I don't see how I couldn't be inspired by this character, I mean I was so inspired by her when I read the books, it's the reason I wanted to play her," she told Reuters. "So I think it would be impossible to go four years with this character and not be inspired by her."
In the Hunger Games series, written by Suzanne Collins, teen hero Katniss fights for her survival and freedom in a warped dystopia of the future. Despite all odds stacked against her, she triumphs — but only after major personal growth.
"I wanted her to be a warrior right away, I wanted her to want to be a leader," Lawrence told Reuters of Katniss' more passive early days in the films. "I had to keep my own personal emotions about her situation out of my performance."
The final Hunger Games film, The Hunger Games: Mockingjay — Part 2, bows into theaters Nov. 20. Watch the trailer below.