H&M Balmain Collection 2015: Images, Price and How to Buy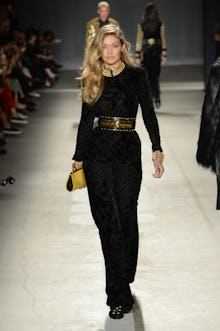 Ever since May, when Balmain creative director Olivier Rousteing announced the Parisian fashion house's collaboration with high-street mega-retailer H&M, fashionistas have anticipated the chance to get their hands on the exclusive pieces (see also: #HMBALMAINATION). That anticipation ends Thursday, when the line will launch in stores and online. 
While the Balmain x H&M price points far exceed that of H&M's standard fare, they're a deep discount from the typical Balmain price tag. The collection, which has been modeled by the likes of Kendall Jenner and Gigi Hadid, features bold solids and prints, gold embellishment and, of course, the $549 beaded velvet jacket that both Jenner and Hadid have donned for the highly publicized campaign.
How to buy: The collection will launch on the U.S. version of H&M's site on Thursday at 8 a.m. Eastern. All retail H&M locations will open at 8 a.m. Eastern for the unveiling, Fashionista reports.
The first 420 customers to show up at each retail location will receive colored bracelets labeling groups of 30, Fashionista reports. Groups are given 15 minutes each to shop the collection. After the initial 420 shoppers make their 15-minute rounds, the collection will open to everyone.
Each customer purchase is limited to two items of each style. Online purchases are limited to one of each item. 
Here's a look at some of the collection's looks and prices for women:
Beaded velvet jacket: $549
Block-striped jeans: $99
Silk-blend velvet dress: $149
Suede Thigh-high Boots: $349
And for men:
Embroidered velvet jacket: $649
Patent leather boots: $299
Hooded shirt with printed text: $49.99
Wool-blend knit sweater: $99