This Artist Translated Beautiful, Untranslatable Words of Love From All Over the World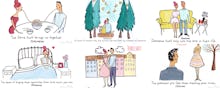 Ah, emotions. As humans, we have so many! And yet when it comes to communicating them, we can sometimes find ourselves at a loss for words — especially when we're restricted to just a single language.
That's why London artist Emma Block and diamond sellers Vashi recently collaborated on an art series which features cute lil' illustrations of various love-related phrases from around the world, along with their English translations.
Anyone who has a heart will surely find something to relate to:
While the phrases have cross-cultural appeal — who can't relate to the feeling you get when you wait for your crush to walk through the door? — Block said she encountered some difficulty finding the right images to go with them. "Some of the words were quite complex in meaning, so I really had to think outside the box with how to portray them," she told Mic. 
While the illustrations are meant to look cute and simple, Block said she also created the images to "tell a love story evolving over time" with "subtle nods to the countries the words came from."
Indeed, when some of the images are viewed in succession, they tell the story of a couple's journey of love via a number of different languages — proving that love is the most universal language of all. (Which is, like, kinda cheesy, but also: Awww.)
Artists have long tried to bridge the gap between the English language and the many untranslatable words for love that exist around the world. Last year, artist Ella Frances Sanders published a book called Lost in Translation, which featured many of the same words as Block and Vashi's project, interpreted in a different style.
The popularity of such projects suggests that one language simply isn't enough to communicate the myriad feelings that come with the near-universal experience of falling in love. Perhaps this is why the response to Block's project has been so overwhelming, with the images going viral across the Web. "[The response has] been really lovely," she told Mic. 
As for her personal favorite of the bunch, she said that she particularly loves the Welsh word "cwtch," which translates to "hug, or a safe place provided by a loved one."
Check out more from the collection below.