Curly Haired Emojis Are Finally Here — And They're Super Cute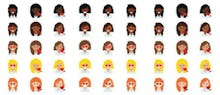 Now that we've got emojis in the form of a taco, a unicorn, a coffin and one of those stoned dudes from Easter Island, it's about time for some hair diversity. 
Beauty company Dove has now done the work for you. As part of their "Love Your Curls" campaign, which launched earlier this year with a spectacularly cute video and a children's book, Dove has introduced a curly haired emoji keyboard so you and all your friends can be accurately represented in the form of a itty-bitty icon. 
They're taking diversity seriously with this one. The keyboard includes 27 curly hair designs and patterns, all with a variety of skin tones and hair colors. That's 131 variations. There are even seven animated GIFs. 
So yeah, Dove's definitely got you covered to express whatever emotion you're feeling right that second.
Before launching the addition, Dove did a hearty deal of research too. The brand surveyed 1,500 American women and girls on their emoji habits, and found that 82% of curly-haired respondents said they'd like to see more female emoji options that show their real hair types. 
According to the Huffington Post, nearly 80% of the responders with curly hair "feel the existing female emojis underrepresent their hair type," with only 9% of women responding that "there are enough emojis to represent the wide range of women and girls' appearances." 
That's not surprising, as it explains Apple's much-celebrated rollout of more diverse emoji this year.
"One in three women in the United States have curly or wavy hair, yet there are zero images of these women today in the increasingly common language of emojis," Rob Candanielo, the vice president of haircare at Dove's parent company Unilever, said in a press release. "That felt wrong to us, so we are fixing it and hope by doing so, we will continue inspiring all women to love their curls."
The keyboard is now available for free (!) download from the App store and Google Play. Plus, if you're a Twitter fan, the brand is also partnering with Twitter for a fun trick: Every time you tweet #LoveYourCurls, a curly hair emoji automatically appears in the tweet.
Watch the adorable video that started it all below: 
h/t Refinery29