Diddy 'MMM' Mixtape 2015: Lyrics, Download and Streaming Options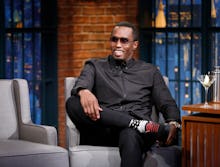 Wednesday is Diddy's birthday, and he extended the celebration to fans. The 46-year-old hip-hop mogul took to the streets of New York City to promote his new mixtape, MMM, which dropped for free Thursday. The mixtape features some of the artist's close friends in high places.
Diddy shared the track list for the mixtape on Facebook Wednesday morning, tagging several other artists who appear throughout the surprise release (the artists' names have since been deleted from the post):
1. "Facts"
2. "Harlem"
3. "Help Me"
4. "Everyday"
5. "Auction"
6. "MMM" 
7. "All Or Nothing"
8. "Workin"
9. "Happily Ever After"
10. "You Could Be My Lover"
11. "Uptown"
12. "Money Ain't A Problem"
13. "Blow A Check"
The tracks feature a number of big names in the rap and R&B game, including Future, French Montana, Wiz Khalifa, Sevyn Streeter and self-described "Queen of Rap" Lil' Kim. You can find the album's full lyrics courtesy of Rap Genius.
On Tuesday, Diddy released a two-part video series in anticipation of his latest musical project, "MMM Chapter 1 & 2," via his Revolt TV network. The artist teased the two documentary-style videos via Instagram: