The Secret to Adele's Success: She Does What No Other Pop Star Does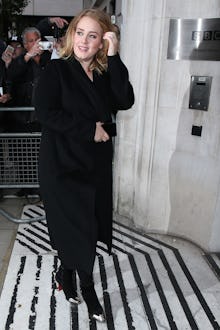 Adele is, inarguably, a superstar. The record-smashing success of "Hello," the first single off the British songstress' new album 25, has solidified that 21 was no fluke. She is a phenomenon, with a mixture of sales and impact on par with the Taylor Swifts and Beyoncés of the world.
So now that it's an established fact, the question remains: How did Adele do it?
Being a pop star in the 2010s means a focus on the pageantry of performance and maintaining multimillion-dollar brand ventures that go far beyond making music. Adele trumped all that with a piano ballad about an ex-boyfriend — and she keeps trumping it. There are qualities about Adele that, against all odds, make her a star. Most importantly, they're qualities that her contemporaries lack.
She gives herself time. Adele waited over four years between the release of 21 and 25. As noted by British music journalist Peter Robinson for i-D, this is one of the artist's greatest strengths: the ability to take her time.
"'No' is the most powerful word in any artist's vocabulary," Robinson writes. "At its most extreme, the ability and desire to say no can means the difference between career longevity and speedy burnout. As the past week has shown, it's also the difference between Adele and nearly everyone else."
According to her profile in Rolling Stone published this week, Adele threw out several songs that weren't personal enough at the urging of producer Rick Rubin. She preferred to wait for the best project versus adhering to a deadline. 
Compare Adele's strategy to that of a Rihanna, who released an album every year except one (2008) from 2005 to 2012, finally having to stop. In fact, Rihanna taking a break to work on her upcoming record Anti caused several waves of concern, particularly after singles like "FourFiveSeconds" and "Bitch Better Have My Money" came and went without word of an album.
That's another thing that sets Adele apart, though: When she's ready, she moves quickly. Within just one week, she confirmed that 25 was coming, set a release date within the month and released the first single and video. No promo singles or slow rollout needed; Adele knows when she's ready to go.
She handles press with aplomb. Press is an integral part of the game. Luckily, Adele is unparalleled at it. She's charismatic and playful, like when she conspires with her Rolling Stone interviewer to cheat on his diet with her. "Let's go mad!" she told him. "I'm going in! Going HAM — hard as a motherfucker!" She proudly declares herself a feminist over a glass of wine.
She's also capable of honest, open conversation, like ruminating on Amy Winehouse's death with i-D and evaluating whether or not her being plus-size affected her career. "I think I remind everyone of themselves," she told Rolling Stone. "Not saying everyone is my size, but it's relatable because I'm not perfect, and I think a lot of people are portrayed as perfect, unreachable and untouchable." 
That relatability is key to Adele's success. Her likability in interviews comes down to not having a veil of celebrity around her. She talks frankly, seemingly unafraid of being anything but herself. 
In a way, it follows that a woman who writes about painful, intimate experiences — like the breakup that inspired 21 — would be open and honest in all venues. Adele's awards speeches are similarly funny and heartfelt; her acceptance of the Golden Globe for "Skyfall" is particularly wonderful, from the moment she high-fives Daniel Craig in excitement all the way through her gracious thanks to her boyfriend and son.
"Thank you so much for letting me be a part of your world for a night," she said at the 2013 ceremony. "It's amazing. We've been pissing ourselves laughing."
She sounds both distinct and universal. Ultimately, all the good soundbites in the world couldn't propel Adele to stardom. She has to have the work to back it all up — and that is where the heart of her success is. Adele has an individual style in the modern world of pop, throwback, blue-eyed soul tinged with modern flair. It's a broadly appealing sound largely because of that singularity. Adele isn't competing with anyone else. She's just Adele.
Compare her work to a couple of recent disappointments: Carly Rae Jepsen's Emotion and Charli XCX's Sucker. Both women are talented artists with hit singles under their belts (Jepsen's "Call Me Maybe" and Charli XCX's "Boom Clap"). Yet Emotion debuted at only 16,000 copies in its first week; Sucker fared only slightly better with 29,000. Compare those numbers to a pop star like Katy Perry, whose Prism debuted to 286,000 copies in October 2013.
In both Emotion and Sucker's cases, good albums were hampered by sounding a bit too much like other music out there. Emotion went for an '80s vibe Taylor Swift tackled to great success with 1989 less than a year before. Charli XCX shares much in common with fellow quirky pop imports Lorde and Cher Lloyd.
In contrast, Adele couldn't be mistaken for another if she tried. Her sound penetrates a noisy pop music scene with a clear, unique style. Perhaps nowhere was this clearer than at the 2011 MTV Video Music Awards.
In a show that featured Lady Gaga in drag, Chris Brown dancing like mad and Pitbull throwing everything in his repertoire onstage, Adele's was the one performance that stripped all the artifice away. There, in a spotlight, was a young woman in black, singing about her heart being broken. It resonated with the audience, making no less than Britney Spears emotional. It was proof positive that Adele does have a place in pop — one she created for herself.
Miss Independent: That particular quality is also vital: She did it herself. Sure, she had collaborators; as noted in the Rolling Stone profile, she welcomes working with tough, powerful voices. But Adele remained in her spotlight by putting herself forward as an independent artist.
In the age of squads, Adele's individuality could be a detriment. Where is her Swiftian crew of pals to appear in her music videos? 
Her response: Who needs a squad?
"I've heard about a squad," she told Rolling Stone with what the author described as "an amused snort." She then jokingly lamented her lack of supermodel friends while inviting noted squad agnostic Rihanna into her crew. "That would be really cool. Oh, God. She's life itself, isn't she? I love her."
On the surface, Adele would seem to be made of moderates: fiercely independent without being a loner, feisty without being mean, individual while still appealing to many. Yet the passion and heart she infuses into her work takes her beyond just being a milquetoast pop singer-songwriter. She's an old-fashioned movie star in a musician's body; a Bette Davis with the voice of a generation.
Thanks to this individuality, she doesn't even need to compete with the Beyoncés and the Swifts of the world. She coexists with them as her own entity — one who has captured hearts in multiple nations. How far can her star climb? 25's performance, both critically and commercially, will be the answer.