New Canadian PM Justin Trudeau Just Showed the World How You Treat Women in Politics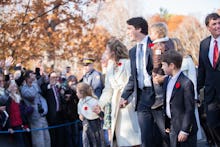 Justin Trudeau, arguably the world's new favorite prime minister, was sworn in as Canada's 23rd leader on Wednesday morning and announced a new cabinet that looks radically different from the one under his conservative predecessor, Stephen Harper. Arriving hand-in-hand with his wife, Sophie Grégoire, at Rideau Hall in Ottawa by foot, breaking the nearly decade-long conservative tradition of ministers arriving aboard limousines, Trudeau signaled what many were hoping for: a fresh new era in Canadian politics.
Trudeau had vowed to design a cabinet with equal gender representation, and he delivered on the promise.  A full list of the cabinet shows that 15 out of 30 new cabinet members are female. Most noteworthy is his decision to assign Jody Wilson-Raybould, a native woman, as the new minister of justice. This is the first time a native person has ever been assigned to that role. Given the lack of accountability and attention the missing and murdered indigenous women in Canada have received over the years, Trudeau's decision to appoint Wilson-Raybould to lead the justice department is more than symbolic — it could be a game-changer.
Given that eight police officers are presently under investigation for sexually abusing and raping native women in the woods of Northern Québec, the intersection of justice and native issues is more pressing than ever. Trudeau also assigned a woman, Carolyn Bennett, as the Minister of Indigenous and Northern Affairs. Another historical appointment was Maryam Monsef as the Minister of Democratic Institutions. Monsef is the first Aghanistan-born minister in Canada's history. She fled her home country 20 years ago as a refugee, and has raised more than $150,000 for the education of women and girls in Afghanistan.
Another move that's been widely celebrated is Trudeau's decision to appoint a man, Jean-Yves Duclos, as the minister of Families, Children and Social Development.
Trudeau didn't just use his power to elevate women's power in government; he also made sure a diversity of women's voices were at the table on a wide variety of policy issues. During his campaign, Trudeau promised a wave of change and "sunny ways." 
When reporters asked him why women's presence in his government was important he simply responded, "Because it's 2015." 
Hopefully, more world leaders follow Trudeau's example and join him in walking the talk.