Britney Spears Announces New Album in the Works —Latest Updates on "#B9"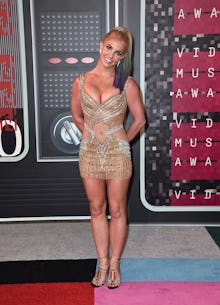 Veteran pop star Britney Spears may be near her latest comeback as the singer started dropping hints on social media over the weekend of a ninth studio album. 
On Tuesday night, Spears, 33, tweeted a photo of herself and a couple of friends goofing around in the studio with a caption that all but explicitly confirmed a new album is in the works. 
Her last album, 2013's Britney Jean, didn't sell nearly as well as her previous albums, but if her tweets are any indication, she seems pumped about the prospects for this new one. Spears tweeted on Oct. 30 that she had just finished recording some vocals on a track that "makes [her] smile." She hashtagged her post "#B9," which could be a teaser for an album title, or might simply stand for her first initial and number of the album.
This year Spears collaborated with Iggy Azalea on the single "Pretty Girls," which debuted in May at No. 1 on Billboard's top 140 trending songs and earned a spot on the standard record top 40 chart, despite the collaboration sparking a feud between the singers. 
Get the news everyone's talking about delivered straight to your inbox every morning by signing up for MicCheck Daily.