Michigan Marijuana Legalization 2015 — What to Know About Keego Harbor Amendment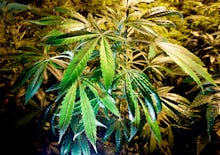 Metro Detroit residents voted to pass a number of proposals during Tuesday's state and local elections, among them an amendment that legalizes the possession of a small amount of marijuana in Keego Harbor, a city 30 miles northwest of Detroit. The lakeside city passed the vote 55% to 45%, with 260 votes in favor of the amendment and 210 votes opposed.
Residents in Keego only had two issues on which to vote for Election Day, the first of which was on imposing a two-term limit on city council candidates. That proposal stalled, with 63% of voters opposed and 37% of voters in favor, 294 votes to 175. The other proposal dealt with marijuana legalization, addressing the "possession or transfer of up to one ounce of marijuana by people at least 21 years old, on private property not used by the public." Reactions across social media were overwhelmingly positive.
According to the Detroit Free Press, Tuesday saw similar legislation pass in the Kalamazoo, Michigan suburb of Portage. As of Election Day, a total of 20 cities and towns across the state have either legalized or reduced the penalties for possessing marijuana. In May, East Lansing passed cannabis legislation, and in 1972 Ann Arbor became the first Michigan town to pass some form of marijuana legalization legislation. (Here's a full list of cities and towns across the state that have passed local cannabis laws.)
Meanwhile in a neighboring state, Ohio voters shot down a proposition to legalize marijuana statewide.
Those who support legalization in Michigan say that they hope the Keego Harbor amendment will nudge Lansing lawmakers into considering likewise reform across the state, according to the Detroit Free Press.
Below are a collection of photos from the Ann Arbor Hash Bash held this past April, an annual pro-marijuana demonstration held at the University of Michigan.