NASA Is Recruiting Astronauts for Mars — Here are the Requirements and How to Apply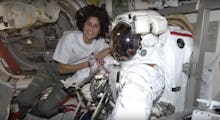 The National Aeronautics and Space Administration is about to make childhood fantasies come true. 
On Dec. 14, NASA will start recruiting it's next class of astronauts for the Mars mission and other space explorations — and anyone possessing three simple requirements can apply. Applicants must have a bachelor's degree in a science, technology, engineering or math, at least three years of related experience or 1,000 hours as pilot-in-command on a jet aircraft and a passing score on the NASA astronaut physical, according to a press release.
"This next group of American space explorers will inspire the Mars generation to reach for new heights, and help us realize the goal of putting boot prints on the Red Planet," NASA administrator Charles Bolden wrote in the press release. "Those selected for this service will fly on U.S. made spacecraft from American soil, advance critical science and research aboard the International Space Station, and help push the boundaries of technology in the proving ground of deep space."
How to apply: The agency is accepting applications from qualified candidates through mid-February, according to a press release, but candidates will have to anxiously await results until mid-2017. Hopefuls can apply through USA Jobs. The administration encourages those who want to learn more about becoming an astronaut to visit this site.
There are 47 currently active NASA astronauts. The agency chose eight astronauts for its last class in 2013. Among the class are previous commanders of the U.S. Navy and Air Force, U.S. Marine Corps, and those with advanced degrees in science-related fields.
"This is an exciting time to be a part of America's human space flight program," Brian Kelly, director of Flight Operations at NASA's Johnson Space Center in Houston wrote in the press release. "NASA has taken the next step in the evolution of our nation's human spaceflight program – and our U.S. astronauts will be at the forefront of these new and challenging space flight missions. We encourage all qualified applicants to learn more about the opportunities for astronauts at NASA and apply to join our flight operations team."