6-Year-Old Boy in Louisiana Accidentally Shot by Police During Pursuit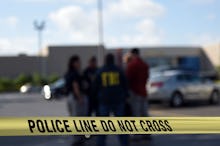 A 6-year-old was killed and his father critically injured in the crossfire of a Tuesday night police pursuit in the central Louisiana town of Marksville, according to the Louisiana State Police Department.
Per the Associated Press, city marshals were chasing Chris Few, a resident who fled when officials attempted to serve him a warrant. Few's son, Jeremy Mardis, was shot as Few attempted to evade the authorities. Dr. L.J. Mayeux, a coroner at Avoyelles Parish, identified Mardis' body and confirmed the boy was "caught in the line of fire," according to the AP. As of Wednesday afternoon, the names of the officers involved had not been made public.
"It's still under investigation, but all indications are that the shots came from outside the vehicle," Mayeux told local news station WAFB. 
According a release from the Louisiana State Police Department and posted to the LSPD's Facebook page, shots were fired around 9:30 p.m. Eastern Tuesday night on Martin Luther King Drive.
The state police have conducted preliminary investigations, but investigators are still piecing together an exact account of Tuesday night's events, 
"The preliminary investigation has revealed that city marshals from Ward 2 discharged their duty weapons, at a vehicle, at the conclusion of a pursuit," reads the press release. "The driver of the fleeing vehicle is in critical condition and a 6-year-old passenger has been pronounced dead."