US, UK Intelligence Officials Believe Russian Metrojet Crash May Have Been Bombing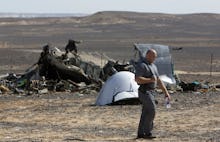 Investigators are becoming increasingly concerned that Metrojet Flight 9268, a Russian A321 airliner carrying 224 people from Sharm el-Sheikh, Egypt, to St. Petersburg, Russia, that crashed with no survivors on Saturday, may have been bombed.
While Egyptian air safety officials originally told media they believed a technical malfunction of some kind could be to blame for the disaster, British Prime Minister David Cameron's office told Time on Wednesday, "We have become concerned that the plane may well have been brought down by an explosive device."
An anonymous U.S. official with first-hand knowledge of the investigation was more blunt, telling CNN "There is a definite feeling it was an explosive device planted in luggage or somewhere on the plane." He added intelligence experts believe that if there was a bomb on board the plane, it was likely planted by Islamic State or one of its affiliates.
Flights between Sharm el-Sheikh and the U.K. have been suspended, while other airlines have stopped flying over the Sinai Peninsula entirely until investigators determine what happened.
The plane broke up in midair, indicating the plane either violently exploded or suffered a catastrophic structural failure. It then plummeted to the ground at more than 300 miles per hour.
While regional Islamic State affiliates originally claimed responsibility for the downing of the jet in retaliation for Russian bombing attacks on Islamic State group targets in Syria, the New York Times' Robert Mackey noted it was flying much too high at the time it lost contact with the ground to be within range of any kind of shoulder-mounted missile in the group's possession.
U.S. officials said on Tuesday satellites had detected a "heat flash" over the Sinai peninsula when the airliner went down but detected no "heat trail" typical of a missile. Other than a bomb, the flash could have been ignited by either an exploding engine or a fire that consumed the plane.
International Institute for Strategic Studies aerospace expert Douglas Barrie told ABC News "general suspicion" of a bomb was growing, adding it was a "political decision to err on the side of caution if it has been deemed possible that an explosive device was involved and there are concerns about the levels of security at the airport involved."
However, officials are still reviewing the flight's black box. Former U.S. National Transportation Safety Board mechanic John Goglia told Bloomberg Business that improper repairs following damage to the aircraft's tail in 2001 is one of the few things that could have caused the plane to disintegrate mid-flight.
Nov. 4, 3:41 p.m.: This article has been updated with a U.S. intelligence assessment provided to CNN.