Proposition F 2015: Here's What's Next for Airbnb Battle After San Francisco Defeat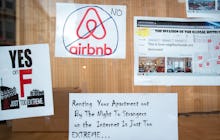 Rent-sharing network Airbnb dodged a bullet on Tuesday when Proposition F, a San Francisco legislation also known as the so-called "Airbnb initiative" that would have limited short-term rental sites, was shot down by voters on Election Day. Airbnb spent several million dollars in a months-long battle against the measure, Fusion reports. However, efforts to reform the company are far from over.
While the measure was defeated in a 55% to 45% vote, Airbnb may have to gear up for similar attacks in other cities it operates in, Re/code reports. "If you have a lot more money than your opponents you can wield a big political axe," Steven Hill, an author and senior fellow at the New America Foundation, a nonpartisan public policy think tank, told Fusion. "But if Airbnb thinks that it's over, it isn't."
Why the fight isn't over: For one, the money Airbnb spent on Prop F is incentive for other activist groups to go after it. Share Better co-founder Dale Carlson, whose company backed Prop F, told Re/code he's talked to groups in other cities and they share similar concerns. "They're wrestling with the same phenomenon," Carlson told Re/code. "It is conceivable there could be a number of ballot initiatives in a number of cities around the U.S. next year. Instead of Airbnb spending $12 million, it could be $100 million."
Prop F would have placed a 75-day annual limit on all short-term rentals, a drop from the city's current 90-day limit. The proposition's supporters, mostly hotels and hotel unions, say Airbnb and its competitors are threatening affordable housing and increasing economic inequality, Fusion reports. 
Some regulation necessary: Though the company wouldn't get behind Prop F, Airbnb spokesman Christopher Nulty told Fusion that regulation is necessary. Nulty used Philadelphia's recent legislation as an example, in which short-term rentals are taxed, limited to 180 days per year and demand a special rental license for any rentals over 30 days.
"Our CEO, Brian Chesky, has said before that to be regulated is to be recognized," Nulty told Fusion. "Regulation is a good thing."
New York City started cracking down on Airbnb last summer on the basis that a majority of the site's short-term rental listings are technically illegal in the city, PBS reports. City laws prohibit any home rental under 30 days unless the owners are present, according to PBS. 
Chairman of the Hotel Association of New York Vijay Dandapani told PBS that Airbnb is essentially stealing money from the hotel industry in New York City. "Those are rooms that would've gone to the hotel industry and should've gone to the hotel industry, given what we've invested in the city and our buildings," he told PBS.