Netflix Launches Bedtime Videos — Here's Why Parents Will Love Them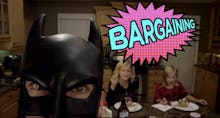 The "five more minutes, mom!" negotiating tactic kids often use was handed some serious ammo from Netflix on Wednesday when it released a series of five-minute videos for parents to serve up at bedtime. The streaming service, which found in a recent survey a majority of parents have kids who constantly press for extended bedtimes, partnered with DreamWorks Animation to produce a series of short videos called Dinotrux 5 Minute Favorites, starring characters Ty-Rux and Revvit, Mashable reports. 
The company announced the new short videos with — what else — a short video, posted to its Twitter account Wednesday afternoon. "Every parent knows this struggle," the tweet reads. "But now, every parent will have #5MoreMinutes of #Dinotrux up their sleeve."
The move comes after a Netflix global poll found 61% of parents have children who refuse to hit the pillows when they're told it's time for lights out. That, combined with a recent report that reveals young children are spending more time in front of the television than ever before, might make clear why Netflix joined forces with DreamWorks to produce Dinotrux 5 Minute Favorites, which is based on an illustrated children's book series. 
Netflix is officially fighting back in the bedtime battle — and they're fighting back hard.