The Most Important Socialist in America Not Named Bernie Sanders Just Won Re-election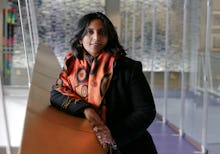 These days, all the talk about the limitations of far-left politics in a center-right country like the United States centers around Sen. Bernie Sanders' (I-Vt.) presidential campaign. The self-described democratic socialist has seen surprising success in the polls, but many mainstream political observers consider him ultimately unelectable.
However, there is another socialist in America whose election has crucial implications for the viability of hard-left candidates in America: Kshama Sawant. There's a good chance you haven't heard of her; the office she just won re-election for — Seattle city council member — is a fairly obscure one.
On Thursday night, KING 5 News in Seattle called Tuesday's election in favor for Sawant. Because the city votes by mail, counting can take some time, but due to the margin of her lead — she has 54% versus her opponent's 46% — at this point in the process, her victory is now secure.
The formal power she wields in her position is small, but it would be a mistake to write her victory off as unimportant. Her success doesn't by any means reflect on Sanders' odds in a race to lead the country, but it does tell us something of great value — a socialist can not only win public office in America but also transform the surrounding political landscape in the process. In Sawant's case, the ripples of change extend well beyond the borders of her city.
Why Sawant won: The race in Sawant's district included nearly $1 million in fundraising — a record amount for a Seattle council race. According to KING 5 News, she had the largest war chest in the race, with more than $430,000 for her campaign. Combined with her raucous army of volunteers, who knocked on tens of thousands of doors in the run up to the election, she managed to decisively win a second term in office.
So why are we paying attention to the results of one re-election fight in Seattle? Because, in many ways, it's extraordinary that Sawant was ever elected in the first place.
Seattle's citywide elections are formally nonpartisan, meaning candidates don't run as members of parties. However, essentially everybody who runs is a Democrat and seeks the endorsement of Democrats. Sawant, a former software engineer born and raised in India, managed to win a position on the council in 2013 through a campaign organized by Socialist Alternative, a Trotskyist political party that has no real presence in national politics or natural party allies in a two-party dominated system.
Sawant is unabashed about her commitment to socialism's principles but ideological flamboyance was not why she won. She won because she managed to garner citywide attention through her extraordinarily effective campaigning for a $15 minimum wage law. Soon after she entered office, Seattle became the first major city in the country to adopt a $15 minimum wage. After Seattle set a new minimum wage, both Los Angeles and San Francisco followed suit. Sawant and her campaign are not directly responsible for that chain of successes, but it's impossible to extricate the subsequent changes from the mandate she created through her campaign.
Sawant won re-election largely by doing the same thing again: centering her campaign on one absolutely compelling issue for the city's average citizens — this time on affordable housing.
"I would say that what Kshama has been able to do is to push the housing affordability question so it is the top of people's minds in a public, political way," Washington state Sen. Pramila Jayapal, who represents south Seattle, told Mic ahead of the election results. "Kshama is very good at taking an issue that affects a lot of people and then lifting it up, and to some extent polarizing it, so that you have to pick a side." 
Lack of affordable housing, an issue that has become a major point of tension in America's major coastal cities, was a poignant centerpiece for her campaign. As a major tech hub and host of one of the hottest job markets in the country, Seattle has seen its business class and national stature grow at a rapid pace in recent years. But that dynamic hasn't benefited all of its citizens — the city has declared a state of emergency over homelessness and the gentrification cycle of soaring rents, culture clash and displacement has rattled many of the city's middle- and lower-income residents. 
The question of how to actually build affordable housing in Seattle is a complex one, since some of the most powerful policies in the domain, such as rent control, can only be administered by the state government. But constructing more affordable housing is an effective way to temper rising rent and, given that the issue is on the mayor's current agenda, Sawant's re-election only makes such plans more likely to be enacted — and ambitious in execution.
"There are economic interests that have outsize influence, and they feel threatened by Kshama."
Another major issue Sawant championed is a millionaire tax. Currently, there is no state income tax in Washington, but some political observers believe that passing laws designed to tax the income of high earners could potentially win in the courts and in turn became a major source of revenue for the city.
"There are a lot of lawyers here who believe that if the underlying constitutional issue got before the state supreme court, they would overturn a ruling from 1933 that needs to be overturned," David Goldstein, who has informally advised Sawant's campaign and helped her write a forthcoming book, told Mic. "Passing an income tax locally is so important to the long-term strategy."
Sawant's fierce advocacy for issues that pit ordinary Seattle residents against the city's affluent residents has won her close friends — and committed enemies.
"Even in a liberal city like Seattle, there are economic interests that have outsize influence, and they feel threatened by Kshama," former Seattle Mayor Michael McGinn told Mic ahead of the election.
McGinn said he believed a lot of the money poured into Seattle's city council elections this year stemmed from business interests unnerved by the huge influence Sawant has over the council's general agenda. 
"You can see a lot of money flowing into other races, because if they can't beat Kshama they want to build a wall around her with other candidates," he said.
Sawant's political prowess is most compelling because she doesn't run campaigns as much as she builds movements. When she wants to apply pressure to the legislative process, she packs the council chambers of city hall with angry supporters. And when she wants to win office, she takes that grassroots movement and builds a campaign around big, zeitgeisty issues that reshape other candidates around her. 
Sawant has credited Sanders with creating momentum on the national level for anti-establishment politics that's seeped into local politics as well.
"When was the last time you heard a presidential candidate say we need a political revolution against the billionaire class?" said Sawant, according to the Guardian. 
The same question could be asked of most progressive politicians on the local level. For Sawant, society's answer lies in thinking less about fighting Republicans and thinking more about an economic system that elevates a few at the expense of the many.