Santacon 2015 Has Been Announced. Here Are the Details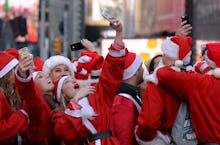 It's nearly that time of year again when New York City becomes crawling with Santas, Mrs. Clauses, elves and reindeer for the annual Santacon bar crawl. While a festive way to spread some early holiday cheer, the Santacon tradition is mostly about drinking and taking selfies (and the occasional public hookup). 
TimeOut reported Wednesday Santacon 2015 will kick off Dec. 12. Last year, the event attracted droves of often drunk Santa Clauses, much to the dismay of local commuters. "Time to paint the town red and white," the Santacon website read Wednesday. "The elves and I have been tinkerin' in da toy shop, we're cookin' up something brand new this year."
Organizers of the event partner with a number of charities each year, offering event goers the chance to donate to a variety of different causes. Santacon raised $60,000 in charity donations in 2013, according to its website. The site also updated its "Santa's code" section Wednesday, adding a series of new suggested guidelines for participants. 
The code section includes notes to respect police officers, drink responsibly and listen to instructions. As TimeOut notes, the updated list could serve as the organization's attempt at being seen as a fun and peaceful tradition.
However, authorities already have their guard up. Pix11 reported the NYPD is discouraging bars from partaking in the event, though many restaurant owners say they rely on the tradition to boost revenue. "SantaCon is largely a collection of diverse social communities who come together in a festive culture jam that not only pokes fun at America's consumerist holiday, but raises money and donations, in the true spirit of holiday giving," a Santacon representative told Pix11.
Check out NYCSantacon for more information as it comes, including the start time and specific location details.