Fun Fun Fun Fest 2015: Latest Info, Schedule, Tickets and Lineup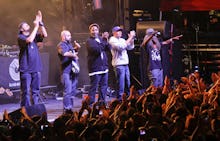 Fun Fun Fun Fest 2015, a progressive music festival now in its 10th year, will run from Friday through Sunday at Auditorium Shores in Austin, Texas. This year's event, commonly referred to as FFF, involves an eclectic lineup of artists, including big names like Lauryn Hill, Wu-Tang Clan and Chvrches, as well as up-and-coming artists like Snakehips.
View the full Fun Fun Fun lineup on the site.
What FFF has to offer: Like many modern music festivals that offer more than just music, the three-day Fun Fun Fun Fest boasts comedy acts, food, sports and art. Comedian Tig Notaro is among the comedians scheduled to perform. 
Eats will be in abundance this year with 18 food vendors, according to the festival's website. A few options are vegan ice cream, empanadas and a "non-GMO" bakery. A skateboard ramp provided by skate apparel company Volcom will also be there.
FFF ticket info: Three passes are available for purchase. Admission for all three days is $199. Single-day passes go for $89 a pop and VIP "Ultimate Smooth Passes" run $450 each. While pricey, the VIP pass grants festival goers private access to bars throughout the venue, air conditioned restrooms, VIP-only viewing areas near the front of each stage and more. Further info and ticket purchase are available here.
After last year's Fun Fun Fun Fest, The Daily Texan reported that despite three scheduled performances being canceled, including the popular alternative-punk band Death Cab for Cutie (not to mention the concert being restricted to a smaller area because of construction), the festival proved to be "one of the better festivals in Austin" with "a combination of cool weather and even cooler bands."