Mexico Marijuana Legalization 2015: 5 Things to Know About Mexican Supreme Court Decision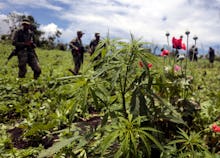 On Wednesday, the Mexican Supreme Court handed down a ruling that some experts say could pave the way for the eventual legalization of marijuana, a drug that has spawned countless drug cartels and led to increased violence and organized crime in the country, the New York Times reports. 
Here are 5 things to know about Wednesday's development:
The case: Mexico's Supreme Court ruled in favor of four anti-crime activists with the group Mexico United Against Crime. The case, which was opened in 2013, concerned an instance where regulators prohibited the advocacy group from growing cannabis, Reuters reports. The court decided that, in the case of all four activists, denying citizens permission to grow cannabis for personal use was unconstitutional.
"If ... this Supreme Court is taking such an important step toward legalization of drugs, or at least some of them, I suggest that we are equally careful and responsible in crafting a ruling of the same magnitude," Judge Jose Ramon Cossio, who voted in favor of the measure, said of the ruling, according to Reuters. The ruling did not make consuming marijuana legal in Mexico, however it could set the precedent for future rulings that could lead to full-scale marijuana legalization.
The precedent: Although Mexican law still prohibits marijuana production and commercialization, the country has taken incremental steps to legalize the drug. In 2009, Mexico moved to decriminalize 5 grams of marijuana intended for personal use. 
A valid point: At least part of the ruling hinged on the shifting drug landscape in the United States. Many of Mexico's dangerous drug cartels illegally traffic marijuana into the U.S., where 23 states and Washington, D.C., have legalized marijuana in some form. 
"We are killing ourselves to stop the production of something that is heading to the U.S., where it's legal," said one of the case's plaintiffs, Armando Santacruz, according to the New York Times. 
The bigger issue: Mexico's current, restrictive drug laws have meant a rise in organized drug cartels. According to Business Insider, one of Mexico's relatively new and highly dangerous cartels, Cartel Jalisco Nueva Generacion, was likely involved in the July 11 jailbreak of Mexican drug kingpin Joaquín Guzmán, better known as "El Chapo."
The past is prologue: Although Wednesday's decision doesn't legalize marijuana across Mexico, some experts think that if the Supreme Court makes similar decisions in the wake of Wednesday's case, a trend could emerge for pro-cannabis advocates to make a viable case for legalization. Activists would need the court to make five similar decisions in order to argue for a precedent to change marijuana's illegal status, the New York Times reports. 
Something similar happened in Mexico regarding same-sex marriage. According to the Guardian, a series of decisions led to a Mexican Supreme Court ruling in June that said outlawing same-sex marriages was unconstitutional.