Bernie Sanders Is Already Making Good on His Promise to Get You Weed ASAP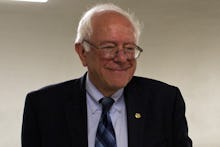 Last month, Sen. Bernie Sanders staked out what is perhaps the boldest marijuana policy position of any serious presidential candidate when he announced that he would seek to remove marijuana from the federal government's official list of dangerous drugs.
On Wednesday, the candidate took the first steps toward making that promise a reality by introducing a bill that would do just that. If passed, the Ending Federal Marijuana Prohibition Act of 2015 would revoke marijuana's status as a Schedule 1 narcotic — where positions it alongside ecstasy, LSD and heroin — and also remove it from oversight by the 1970 Controlled Substances Act.
"The science is clear that marijuana is less harmful than alcohol, and that should be reflected in our nation's marijuana policy," Mason Tvert, director of communications for the Marijuana Policy Project, a pro-legalization lobby group, said in a press release, "Sen. Sanders is simply proposing that we treat marijuana similarly to how we treat alcohol at the federal level, leaving most of the details to the states. It is a common sense proposal that is long overdue in the Senate." 
If passed, the bill would essentially demote marijuana to a state-by-state issue by removing the federal government's official blanket opposition to the drug. 
Sanders' position follows a continuing sea change in public and political perception in the United States regarding marijuana. Four states, Colorado, Oregon, Washington and Alaska, have already legalized recreational use in defiance of existing prohibitions. So far, the Obama administration has largely declined to stand in the way.
Roughly half the states in the U.S. currently allow for some degree of legalization for medical use. Opponents of legalization can claim some victories, such as the recent defeat of a legalization effort in Ohio, but the proposed law in the Buckeye State was unsavory to many in the pro-legalization community, too, thanks a provision that would have granted monopoly growing status to 10 sites across the state. Nationally, legalization polls show a steady march towards favorability, with 58% saying they support the movement, according to a Gallup poll released last month.
"Too many Americans have seen their lives destroyed because they have criminal records as a result of marijuana use," Sanders said during a speech at George Mason University last month. "That's wrong. That has got to change."
On a practical level, however, the Sanders bill has little possibility of passing a Republican-dominated Congress, and even if it did, it is not clear that President Barack Obama, with his traditional caution on emerging social issues, would sign it. Sanders' initiative mirrors a similar bill proposed in the House of Representatives earlier this year by Democratic Reps. Jared Polis of Colorado and Earl Blumenauer of Oregon that went nowhere. 
Sanders' position and subsequent legislation draw a clear distinction on the issue with his chief rival for the Democratic nomination, former Secretary of State Hillary Clinton, who has in the past labeled marijuana a "gateway drug" and said that there "can't be a total absence of law enforcement" on the issue, according to CNN. The subject is almost certain to be a matter of contention when the two meet again for their next debate on Nov. 14.