Nico & Vinz Talk Writing Uplifting Music in an Age Where Positivity Is "Corny"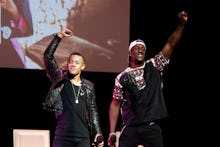 Writing music for a world in which far more people know your hit song than your own name is a tricky limbo for any artist to navigate. On one hand, Norwegian pop duo Nico & Vinz, both 24 years old, preceded and influenced much of today's pop with their 2014 surprise smash hit "Am I Wrong." It whet American audiences' appetites for the lo-fi, African-influenced sound that's super trendy on the Billboard Hot 100 right now, present in songs like Gwen Stefani's "Used to Love You," Justin Bieber's "What Do You Mean?" and Omi's "Cheerleader," 2015's officially designated song of the summer. 
At the same time, simply copying and pasting the formula that made "Am I Wrong" such a smash seems a surefire way to fall into that hole of dreaded one-hit-wonder label. Nico & Vinz have decided to take the high, and perhaps more risky, road out of this conundrum. 
"That moment was magic," they detailed to Mic sitting in their Waldorf-Astoria suite, where they were waiting to take the stage at an awards dinner for the International Rescue Committee on Wednesday. "But we don't have this mentality where we need to be bigger. We just make good music that we like, just like we did with 'Am I Wrong,' and who knows? One song may hit, one song may not. We're just going to release stuff and giving fans what they want, and show ourselves building from the bottom up."
Their latest is "That's How You Know," an irreverent acoustic jam reminiscent of Rihanna's "FourFiveSeconds," the first offering from their Cornerstone EP, dropping this Friday. The album sounds decidedly different from their last, Black Star Elephant. It features the uplifting positivity that proved divisive with most critics, however, more tempered and tasteful and spread over a much wider palette of sounds.
Nico & Vinz claim to write from experience; a lot has happened to them since "Am I Wrong" came and conquered the airwaves. It seems to be translating into their music. 
Last October, they relocated from their native Norway to Los Angeles, during a particularly contentious moment in our country's recent history. The Black Lives Matter movement was gaining traction as incidents of racially motivated police brutality piled up. "Us moving here, we hadn't witnessed that many cases of that kind of injustice in Norway." Nico said. "For us it was just like 'wow.' America is one of the greatest countries in the world, there are so many different cultures, but there's still a lot of racial issues here." 
That comes through most notably on the track "Not for Nothing," which contains a nod to the movement. "When you see my hands up and I say I can't breathe, that's not for nothing," Vinz sings over a subtle guitar line.
"The most important thing for us was just to keep the debate going," Vinz said. "I don't have the answers. We're just observing. Sometimes from our side, it can look so crazy. I can't put myself in the shoes of an American like that, but we're just observing."
The duo's bright, African-influenced pop has always had a firm social and political consciousness. Their song and video for "My Melody," released in February to align with National Black Aids Day, blended penetrating stories narrated by individuals with HIV/AIDS into their song. The video lived up to that goal to "improve these statistics [and] enlighten our existence," as Nico raps. 
However, for many critics, this ceaseless positivity edged perilously close to the "cheese zone," as the Guardian described it. The album's motivational interludes spoken by a tribal elder in particular smacked of "amateur theater Lion King" according to Billboard. Rolling Stone described Nico and Vinz in a profile as an "inspirational cat poster come to life." 
While responding to those depictions, Nico shook his head. "We live in a time where it's corny to be positive," he said. "It's weird to be positive. That mentality is almost destructive for human beings. Why not be good? Why not try to reach for something better?"
Their mission to create socially and politically motivated pop with a positive bend has offered some incredible opportunities. It's allowed them to catch the attention of fellow poptimist Pharrell, who has released his own share of disarmingly positive and political songs in recent years. The duo has already had one session with the producer, with hopes to get in the studio again for more tracks in December. 
Rebasing to Los Angeles has helped Nico & Vinz connect with a much larger network of artists too. They shared that they've been working with Kanye West as well as Kid Ink, who appears on "That's How You Know." This sort of collaboration wasn't something they were used to doing in Norway. They described the scene as being much more closed and independent.
"To us, it's like coming from Norway living in LA all of sudden and working with all the people we've looked up to," Nico said. "I guess, this has to be what the American dream is."
However, Nico checked himself, in what might be a sign that the group is finding a more balanced sense of their buoyant, inspirational aims. "You can look at America as the land of opportunities, man, but it's the almost the land of the extremes," he said. "Like you have one side beautifully become anything you want and work whoever you are it doesn't matter, and you've got the other side that's the opposite. That's the way the world is built, I guess."