Adele's "Hello" Interpreted in Sign Language Is the Best Cover You'll See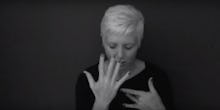 Since Adele's "Hello" was released Oct. 23, it's been seen hundreds of millions of times on YouTube and covered seemingly just as many times by fans and musicians across the world. It's also been interpreted in a variety of ways, with one of the most striking being through American Sign Language. 
On Sunday, ASL interpreter Molly Lou Bartholomew posted a video of herself performing the British singer-songwriter's latest single, and it's as moving as anyone who has already heard the song could possibly expect. Bartholomew has posted several videos of herself translating popular music into ASL performances, from Jason Derulo's "Ridin' Solo" to Gavin DeGraw's "Fire."
The music ends 30 seconds into the song, per copyright issues, according to Cosmopolitan. However, listening to the song through another tab or letting the video continue sans audio provides the same effect: Adele's "Hello" is an invariably powerful song, no matter how it's interpreted. 
Check out Bartholomew's YouTube channel here.
Get more stories that help you rethink the world by signing up for our daily email newsletter.