Demi Lovato and Nick Jonas "Future Now" Tour 2016: Dates, Pre-Sale and Ticket Info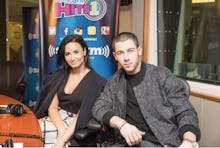 Artists and pals Demi Lovato and Nick Jonas are heading out on the road together next summer as co-headliners of the "Future Now" tour. That will likely showcase the pop singers' latest albums — Lovato's Confident, released Oct. 16, and Jonas' 2014 self-titled album.
The two announced the news together during a Good Morning America appearance on Oct. 26. "Demi and I, we're business partners, obviously have a long history of being friends, but the key for us was about living in this moment," Jonas, who released his second self-titled album in 2014, said during the interview. "Taking a step out individually over the last year and a half, two years, growing with our fans, and saying if there's ever a time to do it, it's now, to come together and do this tour."
Lovato's fifth studio album, Confident, was released on Oct. 16. In a June interview with Entertainment Weekly, Jonas teased a new album for "later this year or next year," but it's not yet clear whether the album will be released in advance of the tour. 
Tickets: Pre-sale tickets are available through Ticketmaster now for Lovato fan club members, those who participated in her album pre-sale and Citibank cardholders, and will go on sale to the public Saturday at 10 a.m. Eastern. More information is available on the Ticketmaster site.
The anticipated tour will commence in Sunrise, Florida, on June 24 and close on Sept. 17 in Los Angeles, making 44 stops nationwide along the way. 
Here's the full schedule:
June 24, 2016 — Sunrise, Florida, at BB&T Center
Lovato and Jonas are longtime buddies and business partners. In May, they launched record label Safehouse together in collaboration with Island Records and their manager Phil McIntyre. In the Good Morning America interview, Jonas said the label is about "a community of people feeling comfortable to release the music they want to release." This isn't the duo's first time on tour together either — in 2008, Lovato was an opener for the Jonas Brothers on their Burnin' Up Tour, and she has opened for them during select stops during their 2009 and 2010 world tours. Jonas was also the musical and creative director on Lovato's 2014 Neon Lights tour.