Drake's "Hotline Bling" Moves Just Got the Holiday Sweater Treatment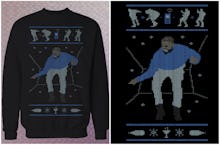 When Drake's music video for "Hotline Bling" debuted in October, the Internet went wild. There were GIFs, there were memes. It seemed like no one could get enough of his awkward, stilted dad moves that were weirdly compelling enough that people now memorize the dance. 
So, with the holidays coming, one very wise company has decided to immortalize Drake's hip-shaking, body-rolling, dad-grooving dance fantasy with a holiday sweater. 
That's right, you guys. As the super-sleuthing shoppers at HuffPost U.K. have pointed out, we can now buy a "Hotline Bling" holiday sweater. (Unfortunately, it's not a turtleneck, but still.) 
Available for the low, low price of $25 from the online store The Yetee, the "Holiday Bling" top is adorned with a large image of Drake, breaking it down as per usual, surrounded by mini Drakes, a cellphone (lol), a few cocktails and snowflakes to celebrate the season. It's basically perfect. (We'd love the girl that Drake's singing about stitched on here too, but we guess you can't get everything you ask for.) 
This wonderful news comes just as Drake is officially becoming one of the industry's most fashionable men. Since the debut of the tropical smash hit's vid, sales for the puffy, cherry-red jacket by Moncler that Drake wears in the video went through the roof. That's saying a lot, considering the jacket goes for $1,150.
More importantly, Drake made turtlenecks sexy again. Just look at the tweets sent out after the video's release: 
Entire guides have been made to ensure everyone across this great planet of ours can "Dress Like Drake" and rock the turtleneck of their dreams. The actual turtleneck he wears in the video, which is $400, is unsurprisingly also flying off the shelves. 
According to the Yetee, the sweater is available for pre-order only through Nov. 8, so act fast, because this is the best holiday sweater that has ever been created. We want 20. 
h/t HuffPost U.K.
Get the news everyone's talking about delivered straight to your inbox every morning by signing up for MicCheck Daily.