Emma Watson and Malala Yousafzai Discuss Why It's Important To Be a Feminist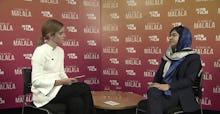 Emma Watson is doing a lot to bring feminism into mainstream consciousness. Whether she's famously beseeching men to claim the feminist cause, grappling with white feminism or calling out sexist industries, the star constantly brings attention to the movement and term itself. It's no surprise, therefore, that the actress' recent conversation with girls' education crusader Malala Yousafzai added to this legacy.
"This word feminism, it has been a very tricky word," Yousafzai told Watson during an interview following a screening of her upcoming documentary, He Named Me Malala.
While her first exposure to feminism included negative connotations and stereotypes, Yousafzai said, hearing Watson's United Nations speech helped her realize "there's nothing wrong with calling yourself a feminist." Indeed, she calls herself one today.
"I am a feminist and we all should be feminists because feminism is another word for equality," Yousafzai explained.
Malala has accomplished many incredible things in her young life: She blogged for the BBC about girls' education at just 11 years old, survived a terrorist attack and championed her own foundation among other accomplishments. But she has not publicly described herself as a "feminist" — a fact Watson herself noted when preparing for the interview, she wrote in a Facebook post yesterday. That Malala raised the point herself, Watson said, speaks to her legacy of choosing the path that is right but not necessarily easy.
"Maybe feminist isn't the easiest word to use," Watson wrote. "But she did it anyway."
The two also touched on a number of crucial, related topics. Watson noted that Yousafzai's father has championed his daughter's goals, and she asked the activist about her thoughts on male feminists. Her father, Yousafzai said, "has set an example for all parents, for all men, that if we want equality, if we want equal rights for women then men have to step forward." 
Yousafzai also noted that while she doesn't have definitive opinion on United States politics, she does "really think America needs a woman president."
Like so many others, Watson was clearly taken with the young activist — and for good reason. 
"Malala isn't messing around or mincing her words (one of the many reasons I love her)," Watson wrote in the Facebook post. "She has the strength of her convictions coupled with the kind of determination I rarely encounter ... And it doesn't seem to have been diminished by the success she has already had."