H&M Site Crashes, Stores Mobbed as Shoppers Go Batshit for Balmain Collection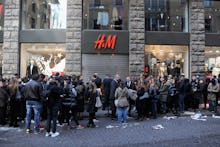 This should have come as no surprise. This is, after all, #HMBalmaination we're talking about.
Not even a half hour after the new H&M and Balmain collection became available online, H&M's website crashed. Even if you were merely interested in browsing the site to see what the hype over this new clothing collection is all about, you were out of luck.
For those who had hoped to avoid to the long lines (and possibly camping to ensure entry) at H&M stores before they opened on Thursday at 8 a.m. EST, the store's website turned out to be a a less reliable alternative. (H&M was well aware, for what it's worth.)
Once shoppers eventually got onto the website, they found most items entirely sold out.
Of course, the diehard shoppers weren't online. They were in line, awaiting entrance at stores that quickly became a mob scene worthy of Black Friday.
Almost immediately after stores opened worldwide, H&M and Balmain fans began documenting the intense moments in stores across the world. Professional photographers were also on hand to capture it.
Oh, and one video, posted by the Instagram account @thecatwalkitalia, appears to show shoppers at an H&M store fighting to the death over a black jacket and green dress. Think Black Friday is bad? People REALLY love Balmain. 
Since its announcement, anticipation around the clothing collaboration between the luxury company Balmain and mainstream juggernaut H&M has prompted a buildup of rabid fandom, thanks to the already massive, social media-driven fan base that makes up #balmainnation (or #balmaination).
You'd think that H&M would have been more prepared this time for the immense amount of traffic on the site. Previous designer collections for H&M have led to the exact same fate: In 2013, the H&M site was down within minutes after the Isabel Marant collection became available. Interest in Versace's collection for H&M also brought down the site not once but twice — for two different releases, in 2011 and 2012.
Balmain was bound to be even more intense, based on the social media fandom the brand boasts.
So, for the lucky few who made it online, congrats. For the rest of us, we can at least say we avoided getting trampled in stores trying to get our hands on the clothing. 
We can always admire from afar on Instagram too. You can bet anyone who got their hands on those sparkly jackets and dresses will be showing them off.
November 5, 10:37 a.m.: As if we needed any more indicators that people have pretty much lost their minds over this collection, people are actually selling — and we assume buying — the garment bags.