Let's Be Honest, Gwen Stefani and Blake Shelton Are the Ultimate Rebound Couple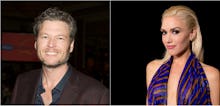 Country singer Blake Shelton and non-hollaback girl Gwen Stefani have finally admitted that they're dating. Good for them! 
"Gwen and Blake are longtime friends who have very recently started dating," Stefani's representative confirmed on Wednesday to Us Weekly. 
One can practically hear the italics on "very recently," as each passing day is crucial in the effort to make this not look like the ultimate rebound relationship.  
The couple, who met as co-hosts of The Voice, were both victims of last summer's unprecedented celebrity marriage massacre. Stefani and ex-husband Gavin Rossdale split in August, while Shelton and singer Miranda Lambert divorced in July after four years of marriage.
Many might argue that jumping into a rebound relationship so soon after their last marriages ended is a one-way ticket to Divorce Court 2.0. And yet! There is actually some research out there to suggest that Gwake (no?) might actually have more than a snowball's chance in Hades after all.
"Analyses indicated that people in new relationships were more confident in their desirability and had more resolution over their ex-partner," a 2014 study concluded, shattering conventional wisdom that taking up with a rebound bae is counterproductive to healthy relationship recovery. 
"Among those in new relationships, the speed with which they began their relationship was associated with greater psychological and relational health," the researchers write. "Overall, these findings suggest that rebound relationships may be more beneficial than typically believed."
So there's that.
The obvious chemistry the duo displayed while performing "Hotline Bling" on The Tonight Show aside, Gwake (still no?) might still raise some eyebrows. Shelton is a 39-year-old Southern country dude; Stefani is a 46-year-old SoCal ska princess/alleged alien. And while some folks might swear that opposites do indeed attract, researchers tend to conclude that having shit in common matters more for long-term success.
But then again! Given how similar indie rock singer Rossdale and country superstar Lambert were to their former spouses, it's possible that both of those relationships failed because they had so much in common that they were expected to be with each other. After all, did we learn nothing from Rachel in Friends when she canceled her wedding to Barry after her sudden epiphany that she was only engaged to him because marrying a Barry was just what everyone had always expected her to do?
Maybe, just maybe, Gwen Stefani wants to be the purse to Blake Shelton's hat.