What Is Guy Fawkes Night? A Guide to Nov. 5 Bonfire Night in Britain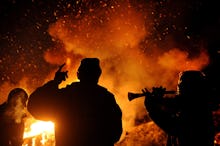 Britain will set bonfires ablaze Thursday night in celebration of the so-called Gunpowder Plot anniversary, also known as Guy Fawkes Night. The tradition is part of a holiday celebrated every Nov. 5 across Britain in memory of the failed attempt to destroy the building housing the Houses of Parliament by setting the Palace of Westminster on fire in 1605.
The historic attempt to assassinate King James I, a Protestant, by English Catholic rebels was carried out by an explosives expert named Guy "Guido" Fawkes, according to the Telegraph. The 35-year-old hid out in a cellar under the House of Lords after having smuggled more than 5,500 pounds of gunpowder into the government building with the help of several conspirators. According to the Telegraph, the Gunpowder Plot was organized by Robert Catesby; Fawkes was the guy who carried it out.
Bonfire Night is celebrated not just in Britain but throughout the United Kingdom. Parliament conducts a yearly tradition of its own on Nov. 5, with guards, also called Beefeaters, sweeping the entire building with lanterns. As tradition would have it, the Beefeaters search the buildings to ensure the Guy Fawkes tradition doesn't encourage any copycat conspirers. The act is also seen as a symbol commemorating the Parliament's ability to ward off the infamous plot in 1605. Across the region, residents light bonfires and burn sculptures of the plotters in celebration of the conspirer's epic failure, according to Telegraph.
Participants of the Gunpowder Plot parades dress in traditional clothing from the 1600s and hold signs, crosses and other religious symbols in flames. The night is also used by some to burn effigies of famous political figures, including Russian President Vladimir Putin and North Korean leader Kim Jong Un. Take a look at some photos from previous celebrations below: