Justin Timberlake and Chris Stapleton Stole the 2015 CMA Awards With an Epic Duet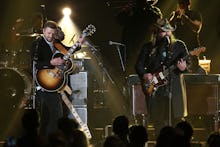 Justin Timberlake music appearances are rare these days. He seems to pop his head in at only the most unexpected opportunities to make a splash. Well, he saw one Wednesday night at the Country Music Association Awards, where he linked up with Chris Stapleton, this year's recipient of the best male vocalist award, for a stunning two-song duet that stole the show. 
They hit the classic "Tennessee Whiskey," originally popularized by country legend George Jones and covered by Stapleton earlier this year, as well as Timberlake's "I Can't Drink You Away." 
"Can I put a little Memphis up in here?" Timberlake asked before transitioning to his own song. And thus, the Memphis was put up in there.
As far out of step with Timberlake's usual funkified pop far "I Can't Drink You Away" is, it was one of the catchiest songs off his 2013 20/20 Experience — 2 of 2. It gave Timberlake's fans a glimpse back to his Memphis roots and, aided by Stapleton's pleasant rasp, brought out the song's rousing barroom ballad feel. 
Going in, country purist Stapleton was a bit nervous it wouldn't go over well with the audience in attendance. "Some people might want to burn me at the stake for it, or burn him at the stake for it," he told Rolling Stone Monday. "Who knows? But we're going to have a good time."
The audience seems to have had a good time, too.
Perhaps it's time Timberlake reconsidered this whole movie star/hip-hop historian role he's been playing and get back to his roots. Watch the full performance below: