2015 MSNBC Democratic Forum: Time, Channel, Moderator and Candidates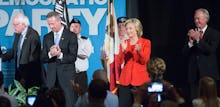 MSNBC host Rachel Maddow will moderate a broadcasted forum on Friday with the three Democratic presidential candidates — former Secretary of State Hillary Clinton, Vermont Sen. Bernie Sanders and former Maryland Gov. Martin O'Malley. Former Rhode Island Gov. Lincoln Chafee, Harvard professor Lawrence Lessig and former Virginia Sen. Jim Webb have dropped out of the race. The forum will air on MSNBC at 8 p.m. Eastern on Friday. 
Dubbed "First in the South Democratic Candidates Forum," the event will be sponsored by the South Carolina Democratic Party and co-sponsored by Democratic parties of others southern states. The event will take place at Winthrop University in Rock Hill, South Carolina. Candidates will take the stage one at a time for one-on-one dialogue with Maddow — as opposed to the traditional inclusive debate, which often involves heated dialogue between presidential contenders. Maddow is expected to press each candidate on key topics including the economy, policing and the Democratic party's standing among southern voters, the Huffington Post reports.
"We're thrilled to provide an opportunity for the Democratic presidential candidates to speak to South Carolina voters and voters all across the South," SCDP Chair Jaime Harrison said in a statement. "This forum will allow candidates to share their visions for our country, speak to southern-specific issues and concerns and show that Democrats are focused on giving working and middle class families an opportunity to succeed."
South Carolina is a key state for all candidates as it hosts the first primary elections of the southern states: Feb. 20 for the GOP and Feb. 27 for Democrats.
Democratic candidates have recently argued that they need more than the six scheduled primary debates, but Maddow said during her announcement that this forum won't ease the controversy. "This newly announced forum in South Carolina, I have to tell you, it does not affect that fight over the number of debates," she said, stressing that "it's not a debate; it is a forum."