Here's Why Women Are Finally Asking for "Period Clothing" — and Getting It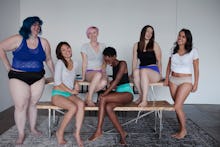 Periods have gone viral. 
From a marathoner running the race while free-bleeding to underwear that could replace menstrual pads, women's monthly cycles have been carving out more and more space on the Internet. From first-person essays to period-tracking technology, women have put the spotlight on "nature's curse" in humorously real — and painfully accurate — ways. Hell, even Barbie wants to get real about periods.
The fashion industry is taking note. In a short time, "period panties" and other period-minded items have gone from bizarre to nearly normal. That's a good sign that clothing for women is finally, y'know, recognizing women.
What is period-friendly fashion? In the loosest terms possible, period fashion is about acknowledging the fact that women are humans with bodily functions. That means we bleed, as well as sweat, drip, chafe, what have you. Clothing can accommodate those needs, whether with breathable fabric or magical moisture-wicking, odor-eliminating fabric technology. 
"Period fashion," as it's emerging, is taking into account those needs in a way that's finally wearable after years of awkwardness. In the early 20th century, women were offered absorbent cotton strips (not unlike diapers), which they would pin to homemade "sanitary belts." Some women wore sanitary aprons or bloomers to protect against visible bleeding — which, by the way, was completely taboo, giving women "a great deal of anxiety" about the horror of being seen with bloodstains. 
By the 1920s, women's underwear became closed-crotched, which allowed for Kotex to invest in disposable pads, which still required a special belt. The 1970s finally made the sanitary belts as well as aprons obsolete when brands introduced adhesive pads. 
But clothes haven't quite evolved themselves to take periods into account — which is a little crazy, considering women's clothing is marketed to customers who experience a semi-reliable physical phenomenon that interacts with their clothing every single month. 
Dear Kate was one of the first clothing brands to address it when it launched officially in 2012, introducing a new fabric technology with a leak-resistant outer layer and a moisture-wicking, stain-releasing inner layer. The method has been used for Dear Kate underwear; now the brand is taking it one step further with yoga pants, which it calls "performance pants." 
Both are stylish, normal-looking garments created with the acknowledgment that women are likely to wear them while on their periods. Better yet: The pants (and underwear) come in sizes up to 3XL. 
"Every woman has a horror story, and there are so many innovations in textiles and fabrics, so how come people aren't creating better underwear for women?" Dear Kate founder Julie Sygiel told Mic. 
Crystal Etienne, the founder of the company Panty Prop, had the same thought just this year. 
"Every day, you're putting on an undergarment on," Etienne told Mic. "Women are just putting their foot down and saying, 'I need something comfortable!'"
Launched in October, Panty Prop has two styles of underwear — bikini and hipster — equipped with an elastic band in the crotch to secure a sanitary pad in place. Surrounding the elastic is a "dry tech" mesh that helps wick away sweat or leakage. They're comfortable but also comforting, giving women much-needed insurance against periods that can be so irregular.
"I just want to make sure that when women wake up in the morning, they know that they're good," Etienne said. "I want to give them that peace of mind." 
The company plans to release hosiery and a bodysuit with the patent-pending technology in January, and is seeking additional funding on Kickstarter.
Why now? One reason why women haven't had real solutions is that they haven't been able to talk about it. That's something that's been ingrained in culture for quite some time. 
Back in the 1920s, it was all about menstrual discreetness, with Kotex packs displayed on store counters alongside a cash box, so women could pay without having to mutter the words "sanitary napkin" or "period" out loud. In the 1950s, tampon cases hit the market to help teenage girls hide their tampons and pads. It wasn't until 1972 that the National Association of Broadcasters lifted its ban of TV advertising for pads, tampons and douches. 
The period taboo that's been waning over the decades now is being beaten down for good. Just last month, the Internet exploded over advertisements for Thinx underwear, a line of underwear that actually functions as a menstrual pad with moisture-wicking and stain-resistant fabric. 
(Mic asked women who actually tried Thinx underwear about their effectiveness, and results were mixed.) 
The resistance to posting Thinx ads was based on the mere fact that they featured the word "period." But the backlash to that resistance was telling: Women are eager to make the fact of their periods public and banish the taboo for good.
Further proof that this is no longer a dirty, hidden fact? The handmade, reusable, non-euphemistic and downright cute products for periods currently cropping up on Etsy, which are meant to be admired for their prettiness. 
"These ladies are tired of the cold box of plastic you purchase at the store and are looking for a personal experience," Patti Trojacek, the founder of the Etsy store Trojacek Farms, told Mic via email. "When you are purchasing something that you will have around for several years and use every month, you want to like it and have a say in what goes inside of it."
How have these period products found such success? According to FemmeCloths founder Natalie Pohjolainen, who said her Etsy page this year has already "quadrupled what my total sales were for the whole of last year," the Internet is to thank.
"Women are becoming more conscious of what we eat, what we wear, what we use and with the use of the Internet, we can find information more readily," she told Mic. 
Dear Kate's Sygiel said she's witnessed the same changing tide of acceptance in just two years.
"There's been this explosion of all of a sudden, we're gonna make it not taboo," she said. "I've gotten whiplash from the change in response to being a period underwear company. Years ago, it was like, 'No way, gross, ew!' And now, people are like, 'Wow, that's so crazy, that's so interesting!'"
Celebrities declaring their feminism as a proud badge has helped, said Sygiel, as well as pop culture moments: She also credits the company Hello Flo, which released a series of hilarious commercials involving periods last year. (You certainly remember that "First Moon Party" one, right?)
"People were talking about periods and it was humor," Sygiel said. "And that makes everyone more comfortable about uncomfortable topics." 
Women's bodies bleed, perspire, pee... With taboos melting away, more clothes are accommodating the all-too-real needs of humans who move, sweat, breathe and bleed. 
Take the Vancouver company Dish and Duer that is stepping up to create a dress pant that is both sweat-resistant and odor-resistant, thanks to a fabric called Nature 2X that uses a blend of Tencel from eucalyptus trees. Currently called the "no sweat pant," they're being offered for both men and women, and are directed toward active people who just don't want to worry. 
"Our muse is someone who is going about the city and is super busy," Jessica Marren, Dish and Duer's marketing coordinator, told Mic. "You don't have to worry about this clothing. We're trying to think of how we can make clothing that doesn't restrict."
That sentiment is earning a throng of fans on Kickstarter; with 23 days to go (at time of writing), Dish and Duer has raised $87,497 out of a $20,000 goal.
"If you have the option, I would rather be comfortable," Marren said. "Comfort is so important, and confidence too in what you're wearing."
The same goes for Sport Skirt's "Gotta Go Running" skirt which... wait for it... lets you pee standing up. Currently fully funded on Kickstarter with 12 days to go, the athletic skirt is equipped with a "relief hatch" that allows wearers to "go" when they need to go, plus change a tampon.
It's about damn time that adult women have the same functionality in their clothes that babies do. In 2015, we want clothes that don't need to be total period solutions themselves, but simply clothes that accommodate real bodily issues. Bye-bye, sanitary belts. The future is now.