Julian Hernandez Found After 13 Years Missing. Here's a Timeline of His Story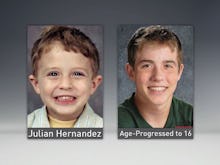 Julian Hernandez was on the search for the perfect college with his high school guidance counselor in Cleveland when he learned of another search that had been underway for 13 years: his own. Authorities over 600 miles away had been looking for the 18-year-old who at 5 was abducted from his home in Alabama and taken to Ohio, where he was given a false identity.
Authorities announced Monday that the boy's father, Bobby Hernandez, 53, is in custody after Julian Hernandez and his guidance counselor found a photo of the boy as a toddler posted on the National Center for Missing and Exploited Children's website, according to AL.com. 
"We applaud Julian Hernandez for his courage in taking the first steps to find answers about who he is," NCMEC manager of public relations Rebecca Kovar said in an emailed statement to Mic. "We know the work for Julian and his family has just begun and will continue over the next days, months and years as they adjust and get to know each other all over again."
How he went missing: Julian Hernandez was abducted in August 2002, when Bobby Hernandez told Julian's mother he would take the child to school. Instead, the elder Hernandez withdrew money from several bank accounts and left Alabama with his son, according to AL.com. 
The toddler's mother reported him missing 13 years ago, and local authorities immediately named his father as a suspect but could not track them down. The pair eventually relocated to Cleveland some time later. "He's been [in Cleveland] three to five years," a neighbor told USA Today about the elder Hernandez. The neighbor also noted he was unaware the teenager, who was found unharmed upon his father's arrest, was an abductee. "I had absolutely no idea this was happening," the neighbor told USA Today. "His son was very quiet, and from what I know, he was a good student."
How he was found: USA Today reports that Julian Hernandez initially discovered an issue with the fake Social Security number his father gave him when he was applying to colleges. According to AL.com, the FBI's local division found out about Julian Hernandez's possible status as a missing person status on Oct. 30, and immediately contacted the NCMEC and local authorities. 
The teenager, who was living under another name, was positively identified as Julian Hernandez, authorities announced Monday. His father was arrested the same day and charged with providing false information to the Ohio Bureau of Motor Vehicles in 2012. The elder Hernandez is also facing extradition to Alabama, where he will likely face child abduction charges. 
According to USA Today, authorities are considering the crime a noncustodial abduction, meaning Julian Hernandez's father wasn't his caretaker when he was taken from his family.