Here's the Story Behind the #BeyBeAHero Campaign and Essay From the Man Who Started It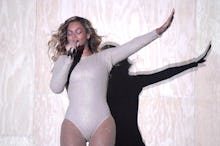 Before the essay "Beyoncé Ignored the LGBT Community in Houston" was published Wednesday on the Huffington Post, Carlos Maza of the nonprofit media watchdog Media Matters for America had spent the last year of his life covering a citywide law in Houston to bar discrimination. 
Business as usual: The October 2014 passage of the Houston Equal Rights Ordinance was like many other municipal victories for LGBT people in the last few years. It was a great win for the people who live there and could possibly influence other cities to follow its lead, but not necessarily the sort of law that incites nationwide protests or tearful coming-out speeches. The legislation was designed to protect 15 classes of Houstonians on the basis of their sexual orientation, religion, gender expression, race and other identifiers. 
Maza, Media Matters' LGBT program director, kept track of the law. In the months that followed, he found himself documenting the conservative attacks on the bill in both English and Spanish, and the increasingly frequent attacks on HERO as its opponents began to focus on one relatively narrow matter: the fact that this bill would permit transgender women to use women's public restrooms.
When Maza found out that a legal challenge to HERO led to the Texas Supreme Court's ruling to put it to a vote by the people, he immediately knew how this would play out. "Opponents are very good at fear-mongering when it comes to LGBT protections," Maza told Mic, which is why LGBT rights ordinances often fail when voters decide  their fates. In this case, it was bathroom panic. 
Maza said he knew Houston was an important battleground for LGBT rights. HERO would be a major LGBT campaign following the U.S. Supreme Court's decision on Obergefell v. Madison, which established nationwide legal marriage equality in June. A victory was crucial for the entire LGBT population's momentum. After racking his brain on who to call for help, he landed on the most famous Houstonian he knew: Beyoncé. 
In August, Maza formally asked Queen Bey to lend a hand (or an Instagram post) to the cause. Since Beyoncé had shown LGBT support and a dedicated commitment to improving Houston, he said she was the right choice. His request spurred a group of Houston-based Latino student activists to contact him and turn Maza's wish into a hashtag: #BeyBeAHero. 
The rub: Despite all of the attention she gets and the loyal fan base, Beyoncé has only given one interview via email in the past two years and has not tweeted in that period. Likewise, she was silent on the #BeyBeAHero campaign. Maza told Mic that, through work with an LGBT organization, he contacted Beyoncé's team several times over the course of the campaign; he confirmed they were aware of the hashtag. Maza also said he even offered a few simple Instagram posts to make her show of support as simple as possible. 
It didn't matter, though. Maza began to write his essay as voters headed to the polls Tuesday. When HERO failed, Maza sat at his computer shaking, unable to process what had just happened. He spent more than a year chronicling media misinformation about the ordinance and why Houston would be the first battleground for many LGBT fights to come. And it failed. 
His first draft was an objective retelling of the events of the campaign that took hours to produce. He rewrote it.  
"I wanted there to be a personal element so that people would know that I'm not trying to throw grenades," Maza told Mic. "I'm not somebody who has any interest in bashing Beyoncé. I wanted them to get at least a sense of how personally invested I was in the campaign and how much I struggle with my own anxiety about asking a celebrity for help and waiting for help and not getting help." 
Maza told Mic that at no point was he saying that Beyoncé should have done anything. "Beyoncé is one of the most powerful women in the world, and she doesn't owe her voice, her influence, to anyone but herself," he wrote in the piece. To him, it was all about her brand: LGBT-conscious and unwaveringly feminist, but seemingly unwilling to work to earn those monikers. 
"Part of Beyonce's brand is that she's an ally to the LGBT community and her refusal to engage in this instance, when it would've been relatively easy, I think, should raise questions about why and what that means for her identity as an ally to the community," Maza said. "People worked very hard to give her an opportunity and her decision to say no should say something about her brand." 
Within an hour of the piece's publication on the Huffington Post, Maza was facing attacks on Twitter. He said he predicted the backlash, but not its enormity or scope. Maza was called f*ggot, a Beyoncé-hater and other various epithets. 
What hurt Maza the most were the implications that he was an "entitled white gay guy." Maza told Mic that those words stung for several reasons. The tension between Latino and white identity in America is certainly growing but for Maza, there is no blurred line: He is Latino. 
Maza, a first-generation Cuban-American, grew up in Miami, where he interacted with mostly Cubans. White kids in his high school were the odd ones out. 
"My queer politics and writing and my activism are informed by my experiences as somebody who is not white," Maza said. "Nothing about how I write or how I think about the world is white. In fact, I think my queer politics are strongly informed by an anti-white supremacy lens." 
Besides people calling him white, Maza mostly regrets that people don't understand that he wasn't the sole orchestrator of the #BeyBeAHero campaign. A group of dedicated Latino students breathed life into the campaign, a detail he said has been lost in the vitriol. 
"You had a group of students who took a Huffington Post article, created hashtag and Photoshop art and got 10 million people talking about a local legal rights ordinance," Maza said. "Latinos are getting it done! Look at the shit we're causing. That was a source of real pride for me and continues to be a source of real pride for me." 
Aside from the "white" part, Maza also feels like those calling him entitled do not understand the work he has done to combat HERO — or the nature of the law itself. A quick scan of his profile shows work debunking and dismantling myths, lauding those who understood HERO's importance and making predictions about HERO's role in the fight for LGBT equality. 
Maza told Mic that HERO itself is an intersectional law with racial, gender-based and LGBT protections and that his work for HERO should be seen as intersectional work. "HERO was the epitome of an intersectional approach to progressive politics, and to have people dismiss it as 'Here's a white cis gay guy asking for things from others' is frustrating because everyone had a stake in HERO."
Maza called these ad hominem attacks "dehumanizing" and dismissive of the hard work put in by a group of queer people of color to help Houstonians.
"What we were asking for is the most powerful Houstonian to lend her voice for a second, one Instagram post, to say, 'Yeah, this work is legit. This work is valid,'" Maza said. "That to me is the opposite of white, entitled gayness. That is serious, hard work on the ground by queer people of color to ask from somebody who should've had a really easy time supporting an intersectional, inclusive nondiscrimination ordinance."  
One criticism of his work that Maza sees as valid was whether it was right to request assistance from a black woman. However, for now, Maza says he stands by his ask. 
"I feel strongly that an intersectional politics that prohibits asking powerful black women for help runs the risk of being anemic," he said. "Intersectionality has to be not just in theory but in practice."
Maza says there is space to have a debate about how to make those requests of famous people of color, especially when the it's coming from other people of color. 
Would he do it again? Despite an extremely unpleasant 24 hours as of Thursday morning, Maza says he would. Maza said he spent the last day thinking about whether he acted irrationally or if he came from a place of white supremacy. But one image always comes back to his mind. A group of scrappy young Latino Houstonians who turned a hashtag into a national movement.
"That shit," he said, "is unprecedented."