Disney Releases 'Alice Through the Looking Glass' Trailer, Featuring Johnny Depp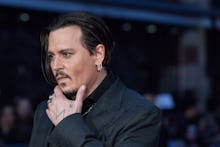 Alice is headed back to Wonderland. Or something like it.
Following the box office success of Tim Burton's 2010 adaptation of the 1865 Lewis Carroll novel Alice's Adventures in Wonderland, Burton and Disney are teaming up again for a sequel called Alice Through the Looking Glass. On Thursday, Disney released a first look at the sequel, which hits theaters May 27.
Though Burton has a producer credit, England's James Bobin directed the followup. The film, which is based on Carroll's 1871 Alice sequel Through the Looking-Glass, welcomes back many key members from the original cast, including Johnny Depp as the Mad Hatter, Helena Bonham Carter as the Red Queen, Alan Rickman (think: Professor Snape) as the voice of the Blue Caterpillar and Australian actress Mia Wasikowska, who most recently appeared in Guillermo del Toro's gothic horror film Crimson Peak, as Alice. 
"We are also introduced to several new characters: Zanik Hightopp (Rhys Ifans), the Mad Hatter's father, and Time himself (Sacha Baron Cohen), a peculiar creature who is part human, part clock," according to the explainer, published on Disney's YouTube channel alongside the new trailer.
The screenplay for Alice Through the Looking Glass was penned by California writer Linda Woolverton, who is responsible for co-writing 1994's The Lion King and 1993's Homeward Bound: The Incredible Journey. According to her biography, Woolverton was the sole screenplay author for Disney's Beauty and the Beast (1991), which broke new ground post-release by becoming the first animated film to ever be nominated for Best Picture at the 1992 Academy Awards.