Amid Redskins Controversy, Adidas to Help High Schools Change Native American Mascots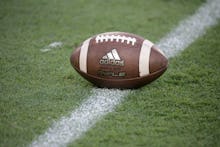 Athletic company Adidas has taken action in response to the ongoing controversy surrounding the Washington Redskins mascot, one that many people have said disparages Native Americans. Adidas announced on Thursday it will help do away with offensive symbolism in sports nationwide by helping high schools redesign their Native American-themed mascots. 
During the White House Tribal Nations Conference in Washington, D.C., on Thursday, Adidas announced it will provide financial and design assistance to any high school teams willing to change their "potentially harmful Native American imagery or symbolism," the company said in a press release. 
Adidas said interested schools should reach out to the company via email at mascotchange@adidas.com, an address created specifically for the movement.
Adidas' plan to change mascots: Approximately 2,000 of the more than 27,000 U.S. high schools use symbolism that is widely seen as offensive to native tribes, according to the press release. Among the most common Native American references in sport team names were Indians, Raiders, Redmen, Braves, Chiefs and Savages, according to a study by Five Thirty Eight.
Adidas hopes its offer will break down barriers that prevent schools from changing their team's Native American mascots, such as the cost of redesigning it. 
"Extraordinary things happen because of sports," Eric Liedtke, an Adidas Group executive board member who was at the White House Tribal Nations Conference, wrote in the press release. "There are countless stories – Jesse Owens at the 1936 Olympics, Jackie Robinson breaking the color barrier, Billie Jean King igniting a women's movement. Today, we can add another story on how sports bring people together and provide common ground to ignite change."
A welcomed move: Change the Mascot, a national campaign to remove the Washington Redskins' Native American name and mascot, applauded the news in a press release. "This is a tremendous display of corporate leadership by adidas," the group's leaders said in the statement. "We hope that a number of companies including FedEx, whose name adorns the Washington NFL team's stadium, will step forward and follow adidas's lead."
Last week, the Washington Redskins filed a lawsuit after a federal judge upheld an earlier decision to cancel the team's U.S. trademark license in July. The team says in the lawsuit the measure violates its freedom of speech and listed over 40 companies with names that could be interpreted as offensive but are nonetheless protected by the U.S. Trademark and Patent office. Among the list were company names like Gringo Style Salsa and Dirty Whooore Clothing Company