Picasso's "La Gommeuse," the "Hidden" Painting, Goes on Sale — Here Are the Photos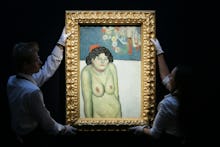 A double-sided painting from Pablo Picasso's so-called "Blue Period" is being sold Thursday night at the Sotheby's Institute of Art annual auction in New York City. The painting, titled "La Gommeuse," is actually two portraits in one and is from Picasso's early career, from 1901 to 1904, when he used mostly blue palettes, CNBC reports. 
The woman portrayed on the front of "La Gommeuse" was a cabaret dancer Picasso painted after the death of his friend, who died from suicide when the artist was just 19 years old. The back of the canvas is a portrait of Picasso's friend Pere Mañach, which wasn't discovered until 2000. The second painting had been hidden behind the canvas lining.  
"Picasso's Blue Period is prized as his breakthrough – this is the moment Picasso becomes Picasso," Simon Shaw of Sotheby's said in a statement. "With her dreamy gaze and frank sensuality, the cabaret dancer in 'La Gommeuse' ushers in a new visual idiom for the 20th century."
Here are photos of Picasso's "La Gommeuse:"
According to Business Recorder, Sotheby's expects the painting to sell for nearly $60 million. Auctions hosted by Sotheby's and rival Christie's selling modern, impressionist, post-war and contemporary art in New York run from Wednesday through Nov. 12 in New York, according to Business Recorder.
Nov. 5, 2015, 3:26 p.m.: This article has been updated.