These Provocative Ads Are Sending an Important Message About Breastfeeding in Public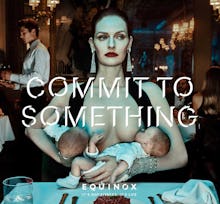 In case stars like Gisele Bündchen and Olivia Wilde haven't convinced you that breastfeeding can be totally glamorous (if you're, um, a celebrity), the luxury fitness brand Equinox is making another appeal — and it's pretty provocative. 
In a bold advertisement shot by fashion photographer Steven Klein, the New York-based fitness club is throwing its support behind public breastfeeding, rejecting the idea that the act is shameful. 
One of the campaign images depicts model Lydia Hearst as a mother "unapologetically breastfeeding" a pair of twins as she sits in an upscale restaurant, decked out in over-the-top diamond earrings and a designer gown perfect for nursing. 
Equinox isn't just making breastfeeding look glam; it also looks tough as hell. The ad is part of its "Commit to Something" campaign, a series of seven photographs that "celebrates various forms of commitment, addressing socially relevant issues including activism, sexuality, lifestyle choices and women's rights," according to a statement from the brand, which is known for its controversial ads.
"It is the responsibility of advertising to communicate modern times and social issues. This campaign addresses today's issues and social commentaries, which is a powerful approach instead of portraying people as superficial objects with no narrative," Klein said. 
And breastfeeding has certainly become a narrative of our time.
The right to breastfeed in public without shame has become an important battle both IRL and online, as images of mothers nursing are often censored on social media. While many women (including Gisele, above) have made it their goal to combat stigma and normalize breastfeeding — and have done a pretty good job of making their point — having solidarity with the fashion and fitness industries certainly doesn't hurt.
h/t Huffington Post
Get the five stories that will challenge you to rethink the world by signing up for MicCheck Daily.