'Spotlight' 2015: Latest News, Trailers, Reviews and More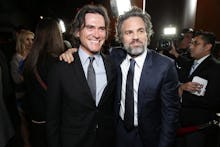 Spotlight, a drama from American director Thomas McCarthy (The Station Agent), hits theaters on Friday. The film's premise is based on the true story of how, in 2002, Boston Globe reporters uncovered multiple instances of child molestation in the Catholic Church and exposed efforts by the Catholic Archdiocese to hide the misconduct of its priests.
In 2003, the Boston Globe won a Pulitzer Prize for publishing hundreds of articles on the alleged sex abuses within the church. Spotlight, which stars Michael Keaton and Mark Ruffalo, recalls efforts by the Boston paper's news team to tell a difficult story riddled with both scandal and secrecy. Here's a link to the first Boston Globe stories that uncovered the coverup and caught the entire world's attention.
The cast: In addition to Keaton and Ruffalo, Spotlight boasts an all-star cast, including Rachel McAdams, Liev Schrieber, Stanley Tucci, Billy Crudup and John Slattery.
The critics have spoken: The reviews are in, and the reaction from most mainstream critics is positive. Per Metacritic, Spotlight earned a rating of 88 of a possible 100. That score is a composite of three 100% positive reviews penned by three critics at Rolling Stone, the New York Times and the Village Voice, dampened by several 60% to 90% positive reviews, including one low, 60% positive review via the Guardian. 
The reaction to the film is as much about the importance of the story Spotlight tells as is the process that got the story to print. The main characters are a troupe of journalists who are desperate to get it right, and their desperation is exacerbated by the looming deadline.
"The movie celebrates a specific professional accomplishment and beautifully captures the professional ethos of journalism," writes A.O. Scott for the New York Times. "It is also a defense of professionalism in a culture that increasingly holds it in contempt ... Everything in this movie works, which is only fitting, since its vision of heroism involves showing up in the morning and — whether inspired by bosses or in spite of them — doing the job."
The film's trailer sets the tone for what is inarguably a controversial and necessary story to tell. Click here to find theaters that are screening the film, in theaters Friday.