The Balmain x H&M Craze Isn't Really About Clothes — It's About Selfies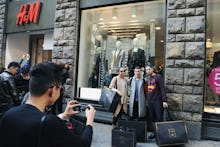 Thursday morning had barely arrived, but the so-called "Balmain Army" was already out in full force, as thousands of shoppers poured into H&M stores to get their hands on the highly coveted Balmain x H&M collection. Yes, the clothes are covetable, as close to actual Balmain designer goods as you can get but for significantly less. Whereas a typical Balmain skirt might cost $1,575, a similar Balmain x H&M skirt costs $59. 
But all the anticipation, strategizing and sprinting are about something much bigger than clothes. It's become an exercise in one-upmanship as shoppers race to secure the ultimate status symbol: bragging rights.
For those who camped outside stores and sprinted in at 8 a.m., snagging a piece from a designer collaboration is a badge of honor. To sport a piece of sparkly Balmain for H&M swag says not only, "I love this brand," but more so, "I jumped through hoops of fire to get this." And social media has never made those badges of honor more public. 
Clothing shopping has always, to some degree, been about a desire to show off. Yet the culture of designer-collaboration mania is the ultimate example of shopping in the social media age — which is, of course, the only way we shop now.
The clothes don't really matter. We've seen the frenzy before. Designers like Halston first collaborated with J.C. Penny more than 30 years ago, but the trend picked up in 2004 when Karl Lagerfeld, creative director of Chanel, was the first designer to partner with H&M. Almost every year since has featured limited-edition designer collections for H&M as well as Target, most of which have debuted to massive success.
Tellingly, the brands that have caused sites to crash and stores to be overrun couldn't be more different. Isabel Marant, Missoni, Lilly Pulitzer, Versace, Balmain — the clothes of these collections are so drastically different that you'd think they couldn't possibly invite the same fandom or enthusiasm. 
But they have, exposing the effect a "limited edition" tag has on pretty much any clothing label. 
Wearing an item from the collection doesn't so much prompt questions of "Where did you get that?" but rather "How?" Did they have to wait in line for hours? Did they solicit the help of friends or family in smaller towns with less competition? Was their Wi-Fi simply faster than everyone else's? Or did they give in and buy the item from one of the many resellers that immediately cropped up on eBay? 
The social media lift: Those questions and more start rolling once photos of victorious shoppers hit Instagram. For a generation of selfie-taking shoppers, one piece of exclusive piece of clothing means at least one selfie. We already spend so much time shopping on our phones, even if we're not actually buying things. With all the victorious shopping photos hitting social media, the result is essentially hashtag window-shopping.
That applies all the more to Balmain, which, thanks to creative director Olivier Rousteing, has a massive social media presence. 
Balmain may be a luxury label with runway shows and sky-high prices, but it's earned a special place in pop culture. For months, Rousteing had promoted the collection with H&M using every tool at his arsenal: press interviews, splashy advertisements, social media and, most notably, a posse of celebrity fans-slash-brand ambassadors who are regularly photographed in the clothes. 
The result has been a social media following dubbed #HMBalmaination, describing the many regular, non-couture-shopper fans who worship the brand from afar — and now can show it off on their own.
Balmain x H&M might be affordable, but it's still aspirational. The runway version of Balmain symbolizes upper-tier exclusivity. Rousteing has said as much, that he knows Balmain is completely out of reach for most people and was eager for the H&M line to reach more of them.
But the Balmain x H&M collection has its own kind of exclusivity. Perhaps it's not that expensive, but it is arguably just as hard to get — and easier to show off, complete with hashtags and an air of victory.
Sure enough, while H&M's website was still down, users on social media were already posting photos showing off their spoils. The not-so victorious? They were leaving sad and angry comments on Rousteing's Instagram account, wishing they (and not the eBay resellers) had gotten a piece — but still worshipping the designer all the same.