Believe It or Not, the Victoria's Secret Fashion Show Has a Boob Problem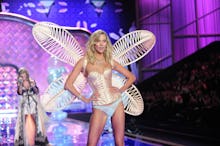 The Victoria's Secret Fashion Show has a boob problem — and we're certainly not talking about too many of them.
No, the Victoria's Secret Fashion Show has a "breast diversity" problem. Just take a look back to the '90s, when the famed fashion show first began.
Back in the 1990s, when the show started as a staid industry affair in New York City, the average bra size in the United States was a 34B. Twenty years later, the average size is now a 34DD, by some measures. 
More women having big boobs has led to an increased demand for bigger bras. Wacoal America, one of the biggest bra brands, told the New York Times in 2009 that its most popular size had reached 36DD, up from a 36D the year before and a 36C two years before that.
And yet the models in the most recent Victoria's Secret Fashion Show, which now broadcasts bras and lingerie outfits for millions of viewers in a nationally televised event, looked like this: 
The small boob beauty standard: The visibly smaller chests of this era's Victoria's Secret models is undoubtedly related to smaller model bodies in general. The bodies of the '90s weren't necessarily more attainable, but Victoria's Secret showcased a more varied vision of beauty based on a curvier norm: Some women were curvier with thick thighs and athletic builds, while others were more slight. 
"When I was modeling, size 6 was a normal size, and now it's like 2," Cindy Crawford told the Daily Mail in 2011.
But the lack of "boob diversity" is its own challenge, as anyone who's shopped for a DD+ bra knows. Breasts have their own cultural beauty standards to fit, and the norm today — outside the Maxim world, of course — veers smaller and perkier. Women are even having their breast implants removed or opting for smaller implants to begin with. As Wacoal reported in a 2005 survey, "There is a stigma about wearing larger cup sizes." 
If the Victoria's Secret Angels aren't evidence enough, just check stores. Despite booming demand from growing busts, there aren't nearly enough bra options above a DD from mainstream retailers, and the options out there tend toward the matronly and ugly. 
"I'm faced with a very limited assortment," Roisin Brodie of plus-size lingerie brand Hips & Curves previously told Mic, adding, "... I can have a black and beige bra."
Victoria's Secret is one of the guilty parties. The mega-retailer sells bras up to a size DDD and band sizes as big as a 40 across its 1,100 locations. But even with larger bras, the store has a reputation for bras that seem far smaller than the labeled cup size. Women have called out the store's bra-measuring techniques and point out that even the small-boobed models walking the runway aren't wearing bras that fit. 
Yet Victoria's Secret remains one of the most popular lingerie stores in the world, and its models set the standard for lingerie. The bulk of the fantastical outfits worn on the Angel-filled runways may not be for sale (that crazy diamond-encrusted bra is worth a cool $2 million this year), but countless women still tune in for a look at what "beauty" looks like. 
To do that, diversity matters. The fashion show's commitment to racial diversity has fluctuated over the years, with no black Angels in 2013; this year, there are just two Angels of color: Jasmine Tookes and Lais Ribeiro. On the body front, the lingerie brand has never cast a plus-size model, but it wouldn't need to look hard to find one, with models like Ashley Graham and Candice Huffine getting great responses in lingerie shoots.
But boob diversity is its own unique kind of diversity, one that speaks not only to plus-size women or women of a certain culture. Victoria's Secret is a bra company, for goodness sake, and it has the perfect platform in its yearly show to celebrate models with breasts that actually reflect the average American woman's.
With the national average growing bigger and bigger, why isn't there a Victoria's Secret Angel who looks like the majority of American women?