Racist Messages on Library Computers Prompt Walkout at a California High School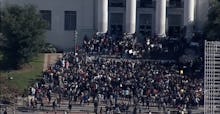 Students at a California high school staged a massive walkout Thursday after racist messages were found on a computer monitor in the school library.
The messages, which read "FUCK ALL THE NIGGERS IN THE WORLD" and "KKK FOREVER PUBLIC LYNCHING DECEMBER 9, 2015," among other things, were first publicized by members of the Berkeley High School Black Student Union, which posted images of the offending words on Twitter.
"This happened in our school," they wrote. "When will we as black students feel safe?"
According to Fusion, students staged a walkout of classes on Thursday while chanting "Black Lives Matter." In the library, near the scene of the discoveries, students took turns venting on a megaphone.
School officials expressed shock at the incident and vowed a concerted investigation into the matter. "This is a hate crime, and messages such as this one will not stand in our community," Berkeley High School principal Sam Pasarow wrote in a message to the school community Wednesday. "I assure you that we are giving this investigation the utmost attention, as well as involving the Berkeley Police Department. We are working hard to create a positive and inclusive school culture, and we recognize the deep pain and rage that hate crimes such as this one bring to our students of color, as well as the damaging effects on our entire community."
Mic reached out to Berkeley High School and left a message with school spokesman Mark Coplan. Speaking to the Daily Californian, Coplan said that identifying the perpetrator would not be easy, as there were no cameras to record the incident and that as a public computer, there were potentially hundreds of people who could be responsible.
It's not the first time the high school has been affected by racially charged acts of hate. The perpetrator also went unfound in a similar incident at the high school in 2014, when a noose was found hanging from the high school grounds. In addition, the most recent edition of the school yearbook had to be recalled due to racist language that was found describing a number of minority students, the Daily Californian reported. 
This is a developing story.