2015 MSNBC Democratic Forum Live Stream: How to Watch Live Online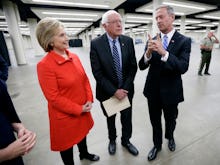 On Friday, MSNBC will host its 2015 Democratic Candidates Forum at Winthrop University in Rock Hill, South Carolina. The forum will begin at 8 p.m. Eastern, and network host and political pundit Rachel Maddow will moderate the event. MSNBC will offer a live-stream footage on YouTube. The event will also be broadcast on MSNBC. 
"As the place for politics, we at MSNBC are looking forward to bringing this forum to a national audience," said MSNBC President Phil Griffin, per a statement released by the South Carolina Democratic Party. "And, with Rachel Maddow leading the night, it's guaranteed to be a lively and insightful conversation with each candidate."
The forum, which is not sanctioned by the Democratic National Committee, is called the "First in the South Presidential Candidates Forum." The candidates include former Secretary of State Hillary Clinton, Vermont Sen. Bernie Sanders and former Maryland Gov. Martin O'Malley. 
"We're thrilled to provide an opportunity for the Democratic presidential candidates to speak to South Carolina voters and voters all across the South," said Jaime Harrison, chair of SCDP, in the release. "This forum will allow candidates to share their visions for our country, speak to southern-specific issues and concerns and show that Democrats are focused on giving working and middle class families an opportunity to succeed."