Ellie Goulding 'Delirium': Lyrics, Streaming and Download Options for New Album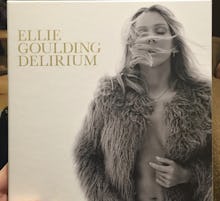 Ellie Goulding released Delirium Friday morning, the English singer-songwriter's third studio album. The 22-track album features a number of already-released hits, including "Love Me Like You Do," "On My Mind" and "Lost and Found."
The album is available for download via iTunes, and is streaming via a number of services, including Apple Music, Spotify streaming, and various other streaming providers. Goulding released a photo of the album artwork via Instagram Thursday, captioning the picture, "I'm so proud." You can also find complete lyrics for Delirium here. The artist not only gave the lyrics to Genius but also discusses the stories behind her hit songs. 
"On My Mind" which features lyrics like 'And now I don't understand it/you don't mess with love, you mess with the truth/and I know I shouldn't say it/but my heart don't understand." Is about "the head going places where the heart isn't leading." Goulding explains "One day we were at the Max Martin compound, and we were just randomly talking about having somebody on your mind that shouldn't necessarily be on your mind. And you can't figure it out why they're still there. I talked to friends about it, and I realized it was quite a common thing."
Below is the track list to deluxe version of Delirium, via Genius:
1. "Intro (Delirium)"
2. "Aftertaste"
3. "Something in the Way You Move"
4. "Keep on Dancin'"
5. "On My Mind"
6. "Around U"
7. "Codes"
8. "Holding On For Life"
9. "Love Me Like You Do"
10. "Don't Need Nobody"
11. "Don't Panic"
12. "We Can't Move to This"
13. "Army"
14. "Lost and Found"
15. "Devotion"
16. "Scream It Out"
17. "The Greatest"
18. "I Do What I Love"
19. "Paradise" 
20. "Winner"
21. "Heal"
22. "Outside (feat. Calvin Harris)"
Delirium is the latest album from the 28-year-old artist, who's last release, Halcyon Days, dropped in 2013, which was essentially a reissue of Goulding's 2012 Halcyon. Fans have been awaiting a new album for years and immediately shared their excitement for the new release via Twitter Friday morning:
Check out Goulding's first music video release from Delirium for the single "Love Me Like You Do" below: