Who Is Neil Cavuto? A Quick Guide to Fox Business Channel Moderator for GOP Debate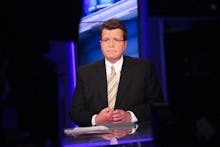 Fox Business Network's managing editor of business news, Neil Cavuto, will be one of three moderators at the fourth Republican debate on Tuesday, hosted by the network alongside the Wall Street Journal. Cavuto and his fellow moderators are expected to press candidates on hot-button economy issues during the two-hour debate, to air on Fox Business Network at 9 p.m. Eastern.
Cavuto told Politico on Monday that he plans to be "invincible" during the debate, saying he's been preparing heavily for Tuesday's event. "There's a lot to it [because] you have to be up for everything and get your hands on everything, but not to the point that you're so beaten down in the weeds and details that you lose sight of the bigger picture," he told Politico. 
Here's more about Cavuto:
Work experience: Cavuto is a senior vice president, managing editor and anchor for both Fox News and Fox Business News, according to his biography. He anchors Fox's Wall Street talk show Your World and his self-titled show Cavuto on Business, which airs Saturdays on Fox.
Cavuto came to Fox from CNBC, where he served as an anchor and host of daily news shows including the network's Market Wrap. He also contributed to NBC's Today Show and NBC News at Sunrise. Before CNBC, he served as the New York bureau chief for PBS' Nightly Business Report.
The business journalist also authored two books, Your Money or Your Life and More Than Money: True Stories of People who Learned Life's Ultimate Lesson, the latter being about his experience with multiple sclerosis. 
Multiple sclerosis: Cavuto was diagnosed with multiple sclerosis almost 20 years ago after surviving Hodgkin's lymphoma in the late 1980s, according to an interview he did with the National Institutes of Health in 2012. 
In a 2004 interview with Fast Company, Cavuto talked about living with the debilitating disease. "I don't know if many people know this about me, but I have multiple sclerosis," he said in the interview. "So I don't have time for a lot of shades of gray. I don't have time for BS. I don't want to play nonsense games. Ever since I was diagnosed, I've had zero patience for the rudeness and vagaries of life. I've also got a short leash when it comes to jargon."